National Assembly of the Republic of Serbia / Activities / Activity details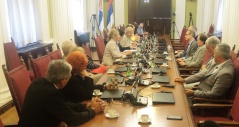 2 July 2015 The Head and members of the Parliamentary Friendship Group with Norway in meeting with the Norwegian Ambassador to Serbia
Thursday, 2 July 2015
Parliamentary Friendship Group with Norway Receives Norwegian Ambassador to Serbia in Farewell Visit
Today, 2 July 2015, at the National Assembly, the members of the Parliamentary Friendship Group with Norway received the Norwegian Ambassador to Serbia, H.E. Nils Ragnar Kamsvåg, in a farewell visit.
---
The Head of the PFG with Norway, Ivan Karic, and Norwegian Ambassador to Serbia Kamsvåg opined that they had established good cooperation, adding that the bilateral relations between the two countries are at an admirable level and urging that they be improved further.

The Head of the PFG with Norway thanked the Government of the Kingdom of Norway for its help to Serbia on the path towards the European Union and the assistance it sent during last year's floods.

"Although Norway is not an EU member, we are very grateful for its readiness to help Serbia's integration into the European Union and the direct investments into Serbia, and I would like to extend special thanks for the assistance of the Government of the Kingdom of Norway in 2013 when it donated funds for the construction of the Prizren dormitory (konak) of monastery Visoki Decani", said Karic.

Norwegian Ambassador to Serbia Nils Ragnar Kamsvåg said he leaves Serbia after his five-year mandate with great affection for the country and its people. He said he wished the existing excellent cooperation continues to develop with his successor. He was especially pleased by the official visit of Serbian Prime Minister Aleksandar Vucic to Oslo in June, saying that it was the first visit by a Serbian Prime Minister to Norway in the last two decades. He also reminded the attending PFG members that the Norwegian company Telenor has been operating in Serbia for a great many years and with its example attracts other Norwegian companies to invest in Serbia.

At the end of the meeting, the Norwegian Ambassador and the PFG members highlighted the need for intensive cooperation in the context of furthering and developing parliamentary and bilateral relations.

Besides the Head of the PFG with Norway, Ivan Karic, the meeting was also attended by 14 PFG members.


---
---
| M | T | W | T | F | S | S |
| --- | --- | --- | --- | --- | --- | --- |
| 27 | 28 | 29 | 30 | 31 | 1 | 2 |
| 3 | 4 | 5 | 6 | 7 | 8 | 9 |
| 10 | 11 | 12 | 13 | 14 | 15 | 16 |
| 17 | 18 | 19 | 20 | 21 | 22 | 23 |
| 24 | 25 | 26 | 27 | 28 | 29 | 30 |
| 31 | 1 | 2 | 3 | 4 | 5 | 6 |
friday, 7 august
No announcements for selected date