National Assembly of the Republic of Serbia / Activities / Activity details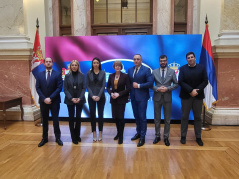 24 January 2023 The participants of the meeting
Tuesday, 24 January 2023
PFG with UK Meets with UK Member of Parliament
The Parliamentary Friendship Group with the UK met today at the National Assembly with UK Member of the Parliament Wendy Morton, currently visiting Serbia.
---
At the beginning of the meeting, Nevena Djuric, who heads the Friendship Group, said that at yesterday's meeting with Wendy Morton, she had discussed a large number of topics, such as the encouragement and inclusion of youth in political life and the work of state institutions, empowerment of women and greater presence on the political scene, as well as current topics in the country and the parliamentary life of Europe. Djuric underlined once again that Serbia pursues a policy of peace and stability, at the guidance of the President Aleksandar Vucic, and that the issue of the security of Serbs in the southern province is one of the ruling coalition's chief tasks. She emphasised the importance and necessity of respecting and implementing all previously signed agreements.
Morton thanked the members of the Parliamentary Friendship Group, saying that these types of meetings help her get a better picture of Serbia and the different political positions and views held by the MPs. She added that one of the goals of her visit to Serbia is to support the work of the Westminster Foundation, which has long-standing cooperation with the National Assembly, and agreed that in addition to the large number of areas where the two countries cooperate closely, such as defence, security and foreign policy, their relations can be further developed through interparliamentary cooperation and exchange of experiences between the MPs. She said that Serbia and the United Kingdom could connect through culture, art and cooperation at the academic level, also mentioning the existing good practice of town twinning.
The PFG members present, Nemanja Joksimovic, Jasmina Karanac, Nikola Nesic, Dr Dragana Rakic, Snezana Paunovic, Milimir Vujadinovic and Zoran Tomic, took advantage of the opportunity to talk with their colleague from the UK Parliament about various types of cooperation and the political positions of the parties they come from.
---
---
| M | T | W | T | F | S | S |
| --- | --- | --- | --- | --- | --- | --- |
| 27 | 28 | 29 | 30 | 1 | 2 | 3 |
| 4 | 5 | 6 | 7 | 8 | 9 | 10 |
| 11 | 12 | 13 | 14 | 15 | 16 | 17 |
| 18 | 19 | 20 | 21 | 22 | 23 | 24 |
| 25 | 26 | 27 | 28 | 29 | 30 | 31 |
saturday, 2 december
No announcements for selected date