National Assembly of the Republic of Serbia / Activities / Activity details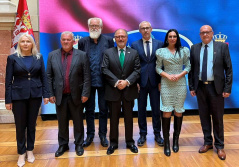 24 May 2023 The PFG with Mexico meets with the Mexican Ambassador to Serbia
Wednesday, 24 May 2023
PFG with Mexico Meets with Mexican Ambassador to Serbia
The Head of the Parliamentary Friendship Group with Mexico Radovan Tvrdisic and the PFG members met today in the National Assembly House with the Ambassador of the United Mexican States H.E. Carlos Felix Corona.
---
At the beginning of the meeting, the Head of the PFG with Mexico Radovan Tvrdisic said that it has been exactly 77 years since the establishment of diplomatic relations between the two countries, opining that bilateral relations are good and friendly and that they are further strengthened by a strong commitment to respecting international law.
Tvrdisic thanked Mexico for its principled and clear stance on Serbia's sovereignty and territorial integrity and non-recognition of Kosovo's unilaterally declared independence.
In the conversation between the members of the PFG with Mexico and the Mexican Ambassador, there was also talk of improving economic cooperation between the two countries, trade and goods exchange, as well as improving cultural and sports cooperation.
Ambassador Felix Corona said that the relations between Mexico and Serbia are excellent, based on mutual respect and understanding, stressing support for Serbia on all the most important issues and underlining that Mexico, like Serbia, strongly advocates respect for international law.
"Mexico has always expressed its support for Serbia's sovereignty and territorial integrity with regard to Kosovo-Metohija, in accordance with the United Nations Security Council Resolution 1244," said Felix Corona, expressing confidence that Mexico's position on the issue will remain unchanged.
Ambassador Felix Corona conveyed Mexico's position that it has many common interests with Serbia, including cooperation on the multilateral level.
The PFG members and the Mexican Ambassador agreed that sovereign states with independent politics should connect and cooperate more.
The meeting was attended by PFG members Mexico Radmila Vasic, Slavica Radovanovic, Stasa Stojanovic, Momcilo Vuksanovic, Ḫaji Milorad Stosic and Ilo Miḫajlovski, who invited the Ambassador to visit the cities they come from and be their guest.
---
---