National Assembly of the Republic of Serbia / Activities / Activity details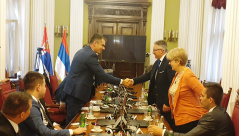 10 April 2019 The members of the Parliamentary Friendship Group with Hungary and the delegation of the Hungarian Parliamentary Friendship Group with Serbia
Wednesday, 10 April 2019
PFG with Hungary Meets with Hungarian PFG with Serbia
The Head of the Parliamentary Friendship Group with Hungary Zarko Micin welcomed the Hungarian Parliamentary delegation, stressing that the relations between the two countries are at a historic high as evidenced by the two governments' many joint session and the coming new one to be held on 15 April in Subotica.
---
He informed the Hungarian delegation that the PFG with Hungary boasts 22 members and opined that reciprocal parliamentary visits could help deepen the two countries' interparliamentary cooperation.
Micin thanked Hungary for supporting Serbia's progress to the European Union, emphasizing the Hungarian Parliament's support in the opening of negotiation chapters.
He went on to speak about the excellent trade between the two countries, increased by 86% in the last 10 years. Hungarian investment is also on the rise, as evidenced by the fact that Hungary ranks 8th by its volume of investment into Serbia. He also spoke about a number of joint infrastructural projects, such as the Belgrade-Budapest and Subotica-Szeged railroads, and others.
Micin also briefed the Hungarian delegation on the problems in Kosovo-Metohija – the illegal 100% customs tariff Pristina imposed on products coming from Serbia and Bosnia and Herzegovina and disregard of the Brussels Agreement where Serbia had fulfilled all of its obligations, while Pristina has not fulfilled its one – to establish a Community of Serb Municipalities.
The Head of the PFG with Serbia Laszlo Nagy spoke about the excellent relations between the two neighbouring countries and the ample potential to strengthen overall cooperation.
The Hungarian Government fully supports Serbia's EU accession efforts and believes that the country, as the pillar of stability and peace in the Western Balkans, belongs in the European Union, said Nagy. Hungary is ready to share all of its experiences with Serbia, both positive and those concerning the obstacles it came up against in the EU accession process, to ease Serbia's accession to the Union.

Ljubomir Aleksov, Serbian national spokesperson in the Hungarian Parliament, said that the position of the Serbian minority in Hungary has improved significantly in the past several years and the country had increased its budgetary allocations for the Serbian national minority. He added that the renovated Serbian Orthodox Museum in Szentendre will be sanctified on 25 May, at an event to be attended by Patriarch Irinej of Serbia and the prime ministers of the two countries.
The meeting was also attended by MPs Zarko Bogatinovic, Milija Miletic, Zvonimir Djokic, Milimir Vujadinovic, Ognjen Pantovic and Arpad Fremond.


---
---
saturday, 19 september
No announcements for selected date