National Assembly of the Republic of Serbia / Activities / Activity details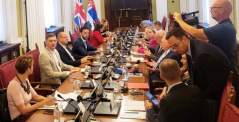 11 July 2023 The participants of the meeting
Tuesday, 11 July 2023
Opposition MPs Meet with UK Parliament Delegation
Representatives of the opposition, MPs Nebojsa Zelenovic, Borislav Novakovic, Pavle Grbovic, Dr Ksenija Markovic and Doc. Dr Biljana Djordjevic met on 11 July 2023 in the National Assembly with the delegation of the Parliament of the United Kingdom, headed by the Chair of the All-Party Parliamentary Group for Serbia Jackie Doyle-Price, and talked about the current political situation in Serbia and its positioning in the new geopolitical circumstances in Europe.
---
The officials agreed that the strengthening of bilateral relations between Serbia and the United Kingdom is of exceptional importance, especially since neither country is a member of the European Union. The MPs pointed out that it is very useful to exchange experiences with the UK colleagues, because the UK is a country with an exemplary democracy and democratic institutions and can offer considerable learning experience.
The members of the British parliamentary delegation said that a functioning democracy must have an opposition in the Parliament, whose questions should be answered by any government. They were interested in the possibilities and mechanisms available to parliamentarians in the National Assembly in exercising their control role and supervising the work of the Government.
The MPs pointed out that this visit is taking place during special circumstances for Serbia, where protests have been going on for nine weeks now, following two tragedies that shook our country, and that the institutional struggle of the opposition is at work, combined with civic protests in the street.
Discussing the geopolitical situation in Europe arising from the war in Ukraine and Russian influence on Serbia, the officials agreed that the current situation should be used to accelerate the process of European integration of Serbia and the entire region of the Western Balkans, and that it is important that Serbia positions itself towards the EU. The participants of the meeting agreed that Serbia is the key country for solving all open issues in the region.
The members of the UK parliamentary delegation said that they sincerely support Serbia on its European path and in strengthening relations with the UK.
---
---
| M | T | W | T | F | S | S |
| --- | --- | --- | --- | --- | --- | --- |
| 27 | 28 | 29 | 30 | 1 | 2 | 3 |
| 4 | 5 | 6 | 7 | 8 | 9 | 10 |
| 11 | 12 | 13 | 14 | 15 | 16 | 17 |
| 18 | 19 | 20 | 21 | 22 | 23 | 24 |
| 25 | 26 | 27 | 28 | 29 | 30 | 31 |
saturday, 2 december
No announcements for selected date