National Assembly of the Republic of Serbia / Activities / Activity details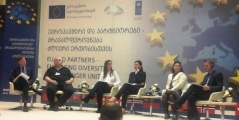 5 December 2017 The European Integration Committee Chairman at the international parliamentary conference "EU and Partners – Embracing Diversity for Stronger Unity"
Tuesday, 5 December 2017
Nenad Canak at International Parliamentary Conference "EU and Partners – Embracing Diversity for Stronger Unity" in Tbilisi, Georgia
The international parliamentary conference "EU and Partners – Embracing Diversity for Stronger Unity" was opened by the Chairman of the Georgian Parliament Irakli Kobakhidze, Georgian Prime Minister Giorgi Kvirikashvili and Vice-President of the European Parliament Ryszard Czarnecki.
---
They said that the two-day conference would be focusing on common priorities and the future of the EU, the candidate countries and the neighbouring states. They said that in the last 60 years the European Union has been a unique model of cooperation and stable development and many countries had gone through the process of European integration, while some are still on that path. They also hope that the process would be continued to the benefit of all who participate in it.
The Chairman of the European Integration Committee Nenad Canak spoke about Serbia's commitment to European integration, its relationship with the Russian Federation, the relation of the media toward the west and toward Russia, and the strengthening of nationalism and populism in Europe.
The Committee Chairman had a bilateral meeting with the Chairperson of the Georgian Parliament's European Integration Committee Tamar Khulordava. They spoke about the two countries' problems and about respecting both countries' territorial integrity and sovereignty. They agreed that the only road to peace and stability in both countries leads through fostering a good relationship with their neighbours. They also said that there are a great many areas where the two committees could cooperate, primarily through Serbia conveying its experience of the European integration process and EU talks.


---
---
friday, 28 january
13.00 - meeting of the Inter-Party Dialogue Control Body (National Assembly House, 13 Nikola Pasic Square, hall 1)

17.00 - National Assembly Speaker Ivica Dacic meets with Inter-Party Dialogue co-facilitators (National Assembly House, 13 Nikola Pasic Square, hall 1)