National Assembly of the Republic of Serbia / Activities / Activity details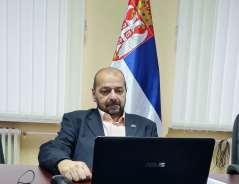 23 November 2020 MP Dragan Sormaz at the NATO PA 66th Annual Session
Monday, 23 November 2020
National Assembly at NATO PA 66th Annual Session
The NATO Parliamentary Assembly (NATO PA) 66th Annual Session, 18-23 November 2020, was the institutions' very first virtual session in history.
---
At the meeting of the Defence and Security Committee on Saturday, 21 November, the attending considered and adopted the report "Key Challenges to Maintaining Peace and Security in the Western Balkans" by rapporteur Jean-Charles Larsonneur (France). MP Dragan Sormaz took part in the meeting and praised the NATO PA's continued interest in the Western Balkans and the rapporteur's efforts. He stated that the report is fact-based and gives a fair account of the situation in the region to a great degree. He reminded the attending that NATO is status-neutral in relation to Kosovo-Metohija and in line with it he asked that the report use status-neutral terminology. Speaking of the economic situation in the region, Dragan Sormaz mentioned Serbia's economic results especially in light of the COVID-19 crisis. He said that due to the unfavourable economic situation and for the easier integration of the entire region into the European Union, Serbia initiated the so-called mini-Schengen economic agreement to enable the free movement of goods, people, capital and services. The members of the NATO PA Defence and Security Committee adopted the report unanimously, with all of the amendments and suggestions of the Serbian delegation.
The NATO PA 66th Annual Session will close today with the online plenary where the attending will be addressed by NATO Secretary General Jens Stoltenberg.
---
---
friday, 23 april
13.00 - video meeting of the Chairman of the National Assembly Foreign Affairs Committee and the Chairman of the Italian Chamber of Deputies Foreign Affairs Committee (National Assembly House, 13 Nikola Pasic Square, hall 2)