National Assembly of the Republic of Serbia / Activities / Activity details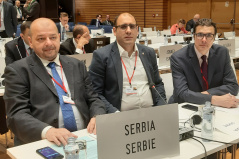 3 June 2019 The members of the National Assembly delegation at the NATO PA spring session in Bratislava
Monday, 3 June 2019
National Assembly Standing Delegation at NATO PA Spring Session
The National Assembly's standing delegation to the NATO Parliamentary Assembly, headed by Dragan Sormaz and comprising MA Dejan Radenkovic Vladimir Djukanovic and Doc. Dr Ivan Bauer, took part in the organisation's spring session, 31 May – 3 June 2019, in Bratislava, Slovak Republic.
---
In the plenary part of the session the participants were addressed by NATO Parliamentary Assembly President Madeleine Moon, Slovak President Andrej Kiska, Slovak National Council Deputy Speaker Bela Bugar, Slovak Minister of Interior Denisa Sakova, OSCE Parliamentary Assembly President Gigi Tsereteli and NATO Assistant Secretary General for Political Affairs and Security Policy Alejandro Alvargonzalez.
Addressing the NATO Parliamentary Assembly, the head of the National Assembly's standing delegation Dragan Sormaz said that the KFOR mission in Kosovo-Metohija is an important element of cooperation between Serbia and NATO. Unfortunately, the trust of the Serbian population of Kosovo-Metohija in KFOR was recently damaged by the incursion of the Kosovo police special forces in the north of Kosovo-Metohija who had, under the pretence of anti-criminal action, brutally beaten and arrested Serbian civilians. Sormaz shared his concern over KFOR's lack of reaction and asked that the KFOR mission, in accordance with the United Nations Security Council mandate, in future prevent any attempts at violence and terror against the civilians in Kosovo-Metohija.
On day one and two of the session, the NATO Parliamentary Assembly committees (Defence and Security Committee, Economics and Security Committee, Science and Technology Committee, Committee on the Civil Dimension of Security and Political Committee) preliminarily reviewed the draft reports to be adopted at the 65th plenary session of the NATO Parliamentary Assembly in London, UK, 11 – 14 October 2019.
---
---
tuesday, 25 february
13.30 - the Head of the PFG with Armenia meets with the Armenian Ambassador to Serbia (National Assembly House, 13 Nikola Pasic Square, hall 2)