National Assembly of the Republic of Serbia / Activities / Activity details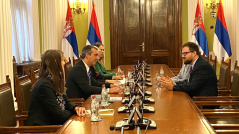 20 September 2022 National Assembly Speaker Dr Vladimir Orlic in meeting with the Ambassador of the Republic of Poland to the Republic of Serbia H.E. Rafal Perl
Tuesday, 20 September 2022
National Assembly Speaker Meets with Polish Ambassador to Serbia: Partners' Support Inestimable in Challenging Times
The Speaker of the National Assembly of the Republic of Serbia Dr Vladimir Orlic met with the Ambassador of the Republic of Poland to the Republic of Serbia H.E. Rafal Perl.
---
On the occasion, he pointed out that Poland's support is extremely important for Serbia in terms of its and the entire region's European path, as well as its active advocacy of the European Union enlargement policy. "Given that we live in a time burdened with difficult challenges, the support of partners is invaluable," said Dr Orlic.
Speaking about Serbia's agenda at the United Nations General Assembly, where our country is represented at the highest level, Dr Orlic expressed his belief that President Aleksandar Vucic, in all of the meetings and in his official address at the UN General Assembly session, will repeat our country's position on the importance of respecting international law, sovereignty and territorial integrity. "It is important that everyone understands that our position on this issue is principled and that the principles of international order need to be respected and observed in the case of Serbia as well. We are consistent in our approach which means dialogue, preservation of peace and stability for everyone, but at the same time we are determined to protect our state and national interests," said the National Assembly Speaker.
He stressed that in Kosovo-Metohija Serbia is faced with flagrant violations of all agreements, complete disregard of the obligation to set up a Community of Serb Municipalities and dangerous unilateral moves by Pristina. "We have to fight for peace earnestly and on a daily basis, to make sure that international law is not just a platitude. It is unacceptable for Serbia that so-called "Kosovo" get a seat in the UN", said Dr Orlic.
The officials agreed that both countries are determined to further strengthen the political dialogue and deepen economic cooperation, with the assessment that reciprocal high-level visits could further contribute to intensifying mutual contacts and attracting investments. In that regard, Dr Orlic pointed out that Serbia is the best place for investors in this part of Europe and that the "Open Balkans" initiative, originating from our country, from President Aleksandar Vucic, further improves the conditions for new investments in the region.
Ambassador Rafal Perl praised the "Open Balkans" initiative, declaring it an excellent incentive for the economic progress of the entire region. "The project is a great opportunity to deepen cooperation and improve the markets of all the members of the initiative", said Ambassador Perl.
Speaking about the parliamentary cooperation between the two countries, Dr Orlic pointed out that it would continue to develop through the soon-to-be set up Parliamentary Friendship Group with Poland. Ambassador Perl agreed that the interparliamentary cooperation is at an admirable level, stressing that it could be additionally improved through an exchange of visits between the parliament speakers in the coming period.
---
---
thursday, 29 september
11.00 - sitting of the Environmental Protection Committee (Majdanpek Municipal Assembly Grand Hall, St.Sava bb, Majdanpek)

11.00 - sitting of the Committee on Finance, State Budget and Control of Public Spending (National Assembly House, 13 Nikola Pasic Square, hall 3)

12.00 - sitting of the Committee on Administrative, Budgetary, Mandate and Immunity Issues (National Assembly House, 13 Nikola Pasic Square, hall 4)