National Assembly of the Republic of Serbia / Activities / Activity details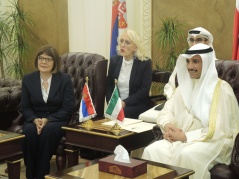 5 May 2015 The National Assembly Speaker Meets with the Kuwaiti National Assembly Speaker
Tuesday, 5 May 2015
National Assembly Speaker Meets with Kuwaiti National Assembly Speaker
The Speaker of the National Assembly of the Republic of Serbia Maja Gojkovic, currently in official visit to Kuwait, met with the Speaker of the National Assembly of the State of Kuwait Marzouq Ali Al-Ghanim.
---
The parliament speakers agreed that, though the two countries enjoy traditionally good and friendly relations, there is still room for improvement at all levels – parliamentary, economic and cultural.
Gojkovic said that there is room and wish to further the already good relations between the two countries and that Serbia is interested in intensifying cooperation both between the two parliaments, which the contacts between the nations' representatives greatly contribute to, and to develop economic relations.
The National Assembly Speaker stressed that Serbia is dedicated to reform adding that the Parliament had in the last year passed 200 laws, among them many reform laws such as the laws on labour, privatisation and planning and construction, aimed at improving the business environment and attracting foreign investment.
Gojkovic said that this was the first visit of a Serbian Assembly Speaker to Kuwait and invited Kuwaiti National Assembly Speaker Marzouq Ali Al-Ghanim to visit Serbia.
Marzouq Ali Al-Ghanim said that the relations between Serbia and Kuwait are very good and hoped they would become even tighter after the Serbian National Assembly Speaker's visit. He outlined the two countries' long history of diplomatic relations and their significance, reminding that the Towers, the symbol of Kuwait, were the work of Serbian builders.
Tomorrow, on the second day of the official visit to Kuwait, Gojkovic will meet with the Emir Sheikh Sabah al-Ahmad al-Sabah and Kuwaiti Prime Minister Sheikh Jaber Al-Mubarak Al-Sabah.

---
---
monday, 21 september
No announcements for selected date