National Assembly of the Republic of Serbia / Activities / Activity details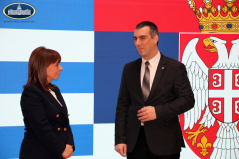 28 March 2023 The National Assembly Speaker with the President of the Republic of Greece
Tuesday, 28 March 2023
National Assembly Speaker Meets with Greek President
The Speaker of the National Assembly of the Republic of Serbia Dr Vladimir Orlic met today with the President of the Republic of Greece Katerina Sakellaropoulou. As they jointly noted, the bilateral relations between the two countries are based on sincere friendship and mutual support, and as such, represent a guarantee for further improvement of cooperation at all levels.
---
Dr Orlic thanked Greece for its principled stance on respecting the territorial integrity of the Republic of Serbia and its clear commitment to the principles of international law. President Sakellaropoulou affirmed that Greece would not change its position of non-recognition of so-called "Kosovo", adding that it consistently continues to support the Western Balkans countries' efforts to join the European Union as soon as possible. Speaking about the dialogue between Belgrade and Pristina, she stressed that the full implementation of the agreements reached so far is of key importance, including the formation of the Community of Serb Municipalities. "While Pristina flagrantly violates previously signed agreements and brazenly refuses to even recognise its obligations, official Belgrade remains the protector of peace, stability and dialogue as the only way to reach a sustainable solution. This policy of our country is led by the President of the Republic, Aleksandar Vucic, for which he has received the trust of the people, and it is also implemented by the National Assembly of the Republic of Serbia and the Government of Serbia. We will continue to insist on the immediate formation of the Community of Serb Municipalities, respect for the basic human rights of the Serbs in Kosovo-Metohija and the preservation of their security", said Dr Orlic.
In the course of the meeting, there was also talk about cooperation in the field of energy, especially in the context of energy diversification, as well as strengthening investment and economic cooperation, with praise for the results achieved so far and determination for its additional improvement in the future.
The officials also confirmed the importance of parliamentary connections at all levels, agreeing that parliamentary diplomacy is of exceptional importance for the further improvement of comprehensive relations and cooperation between the two countries. The meeting was also attended by the deputy speakers of the National Assembly of the Republic of Serbia Sandra Bozic and Snezana Paunovic, as well as the Head of the Parliamentary Friendship Group with the Republic of Greece Veroljub Arsic who thanked Greece and its people for their principled stance on the issue of Kosovo-Metohija, as well as the Greek leadership's support for Serbia's positions.
The President of Greece took the opportunity to thank the Speaker and the delegation of the Serbian Assembly for their welcome. "I hope that we will continue with the constructive work on a common future for our two states and our two peoples", said Sakellaropoulou at the end of the meeting.
---
Photo gallery
---
---
| M | T | W | T | F | S | S |
| --- | --- | --- | --- | --- | --- | --- |
| 27 | 28 | 29 | 30 | 1 | 2 | 3 |
| 4 | 5 | 6 | 7 | 8 | 9 | 10 |
| 11 | 12 | 13 | 14 | 15 | 16 | 17 |
| 18 | 19 | 20 | 21 | 22 | 23 | 24 |
| 25 | 26 | 27 | 28 | 29 | 30 | 31 |
friday, 1 december
No announcements for selected date