National Assembly of the Republic of Serbia / Activities / Activity details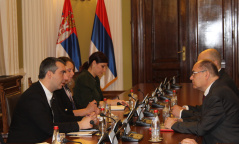 1 February 2023 The National Assembly Speaker with the High Representative for Bosnia and Herzegovina
Wednesday, 1 February 2023
National Assembly Speaker Meets with Christian Schmidt
The Speaker of the National Assembly of the Republic of Serbia Dr Vladimir Orlic met today with Christian Schmidt, High Representative for Bosnia and Herzegovina.
---
In the course of the meeting Dr Orlic said that the Republic of Serbia attaches great importance to its relations with Bosnia and Herzegovina and is committed to developing cooperation across the board, especially when it comes to the realisation of the most important infrastructure projects and economic cooperation. He stressed that the state of Serbia is pursuing the policy of peace, stability and progress for the entire region, without exception. "It is the policy of President Aleksandar Vucic, and our National Assembly and the Government stand behind it", said Dr Orlic.
Christian Schmidt praised Serbia's economic achievements, saying that it sets and impressive example to others. He also highlighted the importance of economic cooperation and connectivity as an important step forward in the European integration of the entire region. "The most significant progress comes when we work together and we wish the progress we have achieved to everyone in the region," said Dr Orlic. As he pointed out the attitude of the Republic of Serbia toward the territorial integrity of Bosnia and Herzegovina, honouring the Dayton Accords, is well-known and unchanged. "For us, it is a matter of principle – the Republic of Serbia respects the sovereignty and territorial integrity of other states without exception and we expect to be afforded the same", said Dr Orlic.
Speaking of the situation in the region, the officials agreed that the preservation of peace is crucial for the overall progress of the Western Balkans and a guarantee for the future to young people.
---
Photo gallery
---
---
thursday, 30 march
11.00 - the National Assembly Speaker meets with the UN Human Rights Council Special Rapporteur for the promotion and protection of the right to freedom of opinion and expression (National Assembly House, 13 Nikola Pasic Square, hall 1)

11.30 - the Head of the PFG with Hungary meets with the Hungarian Ambassador to Serbia (National Assembly House, 13 Nikola Pasic Square, hall 2)

12.00 - sitting of the Committee on Finance, State Budget and Control of Public Spending (National Assembly House, 13 Nikola Pasic Square, hall 3)

13.00 - sitting of the Environmental Protection Committee (Municipality of Babusnica building, 1 Ratka Pavlovica)