National Assembly of the Republic of Serbia / Activities / Activity details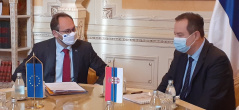 13 October 2021 The National Assembly Speaker in meeting with the Head of the EU Delegation to Serbia
Wednesday, 13 October 2021
National Assembly Speaker Ivica Dacic Receives Head of EU Delegation to Serbia Emanuele Giaufret
The Speaker of the National Assembly of the Republic of Serbia Ivica Dacic received today the Head of the European Union Delegation to Serbia Emanuele Giaufret.
---
National Assembly Speaker Ivica Dacic informed Ambassador Giaufret about the activities related to the ongoing constitutional reform and adoption of a new law on referendum. He said that he would be taking part in the plenary session of the Venice Commission which is to officially adopt an opinion on the proposed constitutional amendments on Friday, 15 October 2021.

The officials also discussed the inter-party dialogue and the implementation of the measures agreed. Ambassador Giaufret thanked the National Assembly Speaker for his engagement and professional approach to the dialogue. The National Assembly Speaker said that implementing the settled measures is being worked on and again underlined that everything agreed on in the course of the dialogue would be implemented.

Ambassador Giaufret informed the National Assembly Speaker that the European Commission's Progress Report on Serbia would be published next week and that he would present it to the National Assembly Speaker and the European Integration Committee at the National Assembly.


---
---
tuesday, 26 october
9.00 - sitting of the Committee on the Judiciary, Public Administration and Local Self-Government (National Assembly House, 13 Nikola Pasic Square, hall 2)

9.30 - sitting of the Committee on Human and Minority Rights and Gender Equality (National Assembly House, 13 Nikola Pasic Square, hall 4)

10.00 - Fourth Sitting of the Second Regular Session of the National Assembly of the Republic of Serbia in 2021 (National Assembly House, 13 Nikola Pasic Square)

12.00 - sitting of the Foreign Affairs Committee (National Assembly House, 13 Nikola Pasic Square, hall 2)

12.00 - judges elected to judicial office for the first time take the oath before National Assembly Speaker Ivica Dacic (National Assembly House, 13 Nikola Pasic Square, Small Hall)

13.00 - sitting of the Culture and Information Committee (National Assembly House, 13 Nikola Pasic Square, hall 3)

13.00 - sitting of the Committee on Constitutional and Legislative Issues (National Assembly House, 13 Nikola Pasic Square, hall 4)

14.15 - National Assembly Speaker Ivica Dacic meets with the OSCE Secretary General (National Assembly House, 13 Nikola Pasic Square, hall 1)

15.00 - members of the Women's Parliamentary Network meet with the OSCE Secretary General (National Assembly House, 13 Nikola Pasic Square, hall 2)