National Assembly of the Republic of Serbia / Activities / Activity details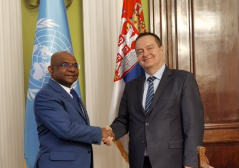 12 October 2021 The National Assembly Speaker and the President of the UN General Assembly
Tuesday, 12 October 2021
National Assembly Speaker Ivica Dacic Meets with UN General Assembly President
The Speaker of the National Assembly of the Republic of Serbia Ivica Dacic met today with the President of the UN General Assembly Abdulla Shahid, visiting Belgrade on the occasion of the meeting of Non-Aligned Countries.
---
National Assembly Speaker Ivica Dacic opined that, in a world facing complex challenges, the role of the United Nations is more important than ever, adding that solutions for all the crises we face could be found only through joint activities. He emphasised the UN's importance for the protection of Serbia's territorial integrity and sovereignty and the resolution of the Kosovo-Metohija issue.

Abdulla Shahid informed his host about the priorities of his Presidency of the General Assembly, stressing that combating the coronavirus is one of the most important global issues and that he would organise a high-level meeting on vaccination in January next year. He praised the solidarity Serbia demonstrated by giving vaccines to other countries which had failed to provide them.

The officials also discussed other priority issues on the UN agenda, such as sustainable development, climate change, gender equality and the role of young people. The National Assembly Speaker went on to inform his guest about the progress Serbia has made in the field of gender equality, stressing that it is among the top 20 countries in the world in terms of the representation of women in government and among the top 30 in the number of women in parliament.

Abdulla Shahid expressed satisfaction because, as foreign ministers, he and Ivica Dacic renewed the ties between the Maldives and Serbia a couple of years ago, and expressed confidence that the friendly ties between the two countries would continue to develop.

The meeting was also attended by the National Assembly Deputy Speakers Dr Vladimir Orlic and Elvira Kovacs, Foreign Affairs Committee Chairman Prof. Dr Zarko Obradovic and Sandra Bozic, who presented the activities of the Women's Parliamentary Network which she heads.



---
---
monday, 25 october
9.00 - sitting of the Committee on the Economy, Regional Development, Trade, Tourism and Energy (National Assembly House, 13 Nikola Pasic Square, hall 2)

9.00 - sitting of the Agriculture, Forestry and Water Management Committee (National Assembly House, 13 Nikola Pasic Square, hall 4)

10.00 - sitting of the Committee on Finance, State Budget and Control of Public Spending (National Assembly House, 13 Nikola Pasic Square, Small Hall)

13.00 - sitting of the Committee on Constitutional and Legislative Issues (National Assembly House, 13 Nikola Pasic Square, hall 1)