National Assembly of the Republic of Serbia / Activities / Activity details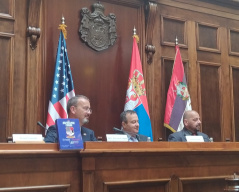 28 July 2021 National Assembly Speaker Ivica Dacic addresses the presentation of the special edition of the "Volunteers' Gazette"
Wednesday, 28 July 2021
National Assembly Speaker Ivica Dacic Addresses Presentation of "Volunteers' Gazette" Special Edition
The Speaker of the National Assembly of the Republic of Serbia Ivica Dacic spoke at the presentation of the special edition of the "Volunteers' Gazette", in circulation since 1928, the oldest Serbian veterans' journal, dedicated to the 140th anniversary of diplomatic relations between Serbia and the US, entitled "Serbs and Americans – 140 years later".
---
THE FOLLOWING IS THE SPEECH OF THE SPEAKER OF THE NATIONAL ASSEMBLY OF THE REPUBLIC OF SERBIA IN ITS ENTIRETY:
"Dear colleagues,
Distinguished guests,
Allow me to greet you on behalf of the National Assembly and thank the Parliamentary Friendship Group with the United States for organising this special gathering. I gladly responded to the invitation to address you, because I try to support all initiatives whose goal is to further deepen the relations between Serbia and the United States and especially to remind us of the friendly and fraternal ties our peoples and states have shared throughout our common history.
I have said it many times and I will say it again, Serbia and the United States have a very rich tradition of cooperation and friendship, and this year we celebrate 140 years of diplomatic relations, a long tradition marked by, definitely, mostly alliance and friendship. Of course, we have had some big setbacks in our relations, recently, in a period that we all remember, but our great duty to our ancestors, who considered each other close friends, is to find a way to move forward together and nurture that which has connected us throughout history. We have an even greater duty to the future generations to work on strengthening our partnership, because only through cooperation can both Serbia and America realise their most important interests.
I think that in order to achieve this goal, it is very important to constantly remind our people - both in Serbia and in America, of the glorious days in our history, of which there were many, which have unfortunately faded from memory under the burden of politics, most of all. I am proud to point out that as the Minister of Foreign Affairs and before that as the Prime Minister, I launched many initiatives whose goal was to bring back into the collective memory some of these events which few nations have in their history. Thus, three years ago, we were reminded of a magnificent act from a century ago, when President Woodrow Wilson issued a proclamation and asked his compatriots to pay tribute to the great and brave Serbian people on their victory over a much stronger enemy in World War I, when the flag of Serbia was displayed for the first time in Washington.
This act symbolised the brotherhood of our peoples, forged in the greatest war catastrophe the world had suffered until then, repeated and strengthened even more in the Second World War, when the Serbian and American people again stood on the side of good in the fight against evil.
And not only in times of war, in times of peace Serbia and America share the same civilizational values they once fought for with weapons. Freedom and cooperation among nations, anti-fascism and democracy, are just some of the foundations which our states and our peoples stand on together in the modern world and build our relations for the future.
That is why I believe that this today's gathering, devoted to the valuable special issue of the "Volunteers' Gazette" dedicated to Serbs and Americans then and now, is an important step towards an even better understanding of what we have meant to each other throughout history, and especially what we should mean in the years ahead. I am convinced that by working together we will reach the same heights of friendship and cooperation reached by our former leaders, not only as a sign of honour to their vision and sacrifice, but even more as our commitment to our generation and the generations to come after us.
Thank you once again for organising this gathering and for the opportunity to address you today, I wish you successful.
Thank you!
---
---
monday, 25 october
9.00 - sitting of the Committee on the Economy, Regional Development, Trade, Tourism and Energy (National Assembly House, 13 Nikola Pasic Square, hall 2)

9.00 - sitting of the Agriculture, Forestry and Water Management Committee (National Assembly House, 13 Nikola Pasic Square, hall 4)

10.00 - sitting of the Committee on Finance, State Budget and Control of Public Spending (National Assembly House, 13 Nikola Pasic Square, Small Hall)

13.00 - sitting of the Committee on Constitutional and Legislative Issues (National Assembly House, 13 Nikola Pasic Square, hall 1)