National Assembly of the Republic of Serbia / Activities / Activity details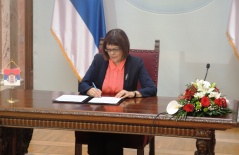 7 March 2016 National Assembly Speaker calls local elections
Monday, 7 March 2016
National Assembly Speaker Calls Local Elections
The Speaker of the National Assembly of the Republic of Serbia Maja Gojkovic called the elections for councillors of city and municipal assemblies in the Republic of Serbia for 24 April 2016, pursuant to the Law on Local Elections.
---
The National Assembly Speaker stressed that this decision does not pertain to the councillors of the city assemblies of Belgrade and Zajecar, nor the councillors of the municipal assemblies of Arandjelovac, Bor, Vrbas, Kovin, Kosjeric, Lucani, Majdanpek, Medvedja, Mionica, Negotin, Odzaci and Pecinci as these local self-governments have had extraordinary elections in the period 2013-2015.
"I would like to invite the citizens of Serbia to vote in the elections on 24 April, which is also the date of the parliamentary and provincial elections, when they will have the opportunity to make decisions about all the levels of government, the future of Serbia and their own future", said the Serbian Assembly Speaker.
Gojkovic appealed to all the participants of the elections to keep the campaigns fair, honest and positive, stressing that those who win the citizens' trust must bear in mind that they should only make decisions which are in the citizens' interest.
Click
here
to watch the signing of the Decision on the local elections and the National Assembly Speaker's press statement.
---
---
friday, 3 december
10.30 - sitting of the European Integration Committee (National Assembly House, 13 Nikola Pasic Square, hall 3)

11.00 - sitting of the Committee on the Economy, Regional Development, Trade, Tourism and Energy (National Assembly House, 13 Nikola Pasic Square, hall 2)

11.00 - public hearing on: "Implementation of the United Nations Climate Change Conference - COP 26 Agreement in Serbia" (National Assembly House, 13 Nikola Pasic Square, Small Hall)

11.00 - the National Assembly Speaker addresses the public hearing on: "Implementation of the United Nations Climate Change Conference - COP26 Agreement in Serbia" (National Assembly House, 13 Nikola Pasic Square, Small Hall)