National Assembly of the Republic of Serbia / Activities / Activity details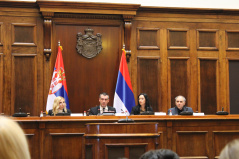 26 January 2023 The National Assembly Speaker addresses the public hearing
Thursday, 26 January 2023
National Assembly Speaker: By Adopting Judiciary Bills we Raise Democratic Standards to Highest Level to Date
The Speaker of the National Assembly of the Republic of Serbia Dr Vladimir Orlic addressed the public hearing held at the National Assembly House today, with the topic: "Presentation of bills to be passed with the aim of adjustment to the Act amending the Constitution of the Republic of Serbia, verified at the republic referendum on 16 January 2022".
---
These bills are the final phase of the judiciary reform begun in 2022 with the change of the Constitution, said Dr Orlic, announcing that they will be presented to the members of the National Assembly in the coming days. "The bills have already entered procedure. All the conditions have been met to discuss them and by adopting them affirm all accomplished. In this way, we a great and important job to an end - raising democratic standards in the Republic of Serbia to the highest level to date, which is recognised and welcomed by Europe and the world," said the Speaker of the National Assembly of the Republic of Serbia.
He opined that the entire judicial reform process was transparent and took into account all the suggestions and comments that would improve it further. The importance of the aforementioned reform, he added, is reflected in preventing the recurrence of the catastrophic moves we had in the past, in strengthening the citizens' trust in their country and its institutions, as well as in all the existing and future investments in our country. "We will continue to work, to pursue a state policy that has full legitimacy and the strong support by the people, expressed not only in the referendum, but embodied in the record results of the presidential and parliamentary elections as well. This is a policy of a better, stronger and more successful Serbia," concluded Dr Orlic.
---
Photo gallery
---
---
thursday, 30 march
11.00 - the National Assembly Speaker meets with the UN Human Rights Council Special Rapporteur for the promotion and protection of the right to freedom of opinion and expression (National Assembly House, 13 Nikola Pasic Square, hall 1)

11.30 - the Head of the PFG with Hungary meets with the Hungarian Ambassador to Serbia (National Assembly House, 13 Nikola Pasic Square, hall 2)

12.00 - sitting of the Committee on Finance, State Budget and Control of Public Spending (National Assembly House, 13 Nikola Pasic Square, hall 3)

13.00 - sitting of the Environmental Protection Committee (Municipality of Babusnica building, 1 Ratka Pavlovica)