National Assembly of the Republic of Serbia / Activities / Activity details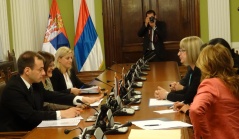 22 June 2015 National Assembly Speaker Maja Gojkovic in meeting with Bulgarian Parliament Speaker Tsetska Tsatcheva
Monday, 22 June 2015
National Assembly Speaker's Bilateral Meetings within 3rd Conference of Danube Parliamentarians
Today, as part of the 3rd Conference of Danube Parliamentarians, National Assembly Speaker Maja Gojkovic had bilateral meetings with Bulgarian Parliament Speaker Tsetska Tsatcheva, President of the Parliament of the German Province of Baden-Württemberg Wilfried Klenk, President of the House of the Peoples of the Parliamentary Assembly of Bosnia and Herzegovina Ognjen Tadic and the Ukrainian parliamentary delegation.
---
In the meetings, Gojkovic and the officials discussed economic cooperation and strengthening infrastructural and cultural ties in the Danube region, as well as boosting parliamentary cooperation.

They also discussed the regional European integration processes, and the Serbian National Assembly Speaker said that Serbia is dedicated to European integration and expects the first negotiation chapters to be opened by the end of the year.

The National Assembly of the Republic of Serbia is the host of the 3rd Conference of Danube Parliamentarians. The Danube Strategy, the first EU strategy to include non-EU member states, is being conducted by 14 countries.



---
---
wednesday, 19 february
10.00 - continuation of the 25th Extraordinary Session of the National Assembly of the Republic of Serbia, 11th Legislature (National Assembly House, 13 Nikola Pasic Square)

11.00 - sitting of the Committee on the Economy, Regional Development, Trade, Tourism and Energy and eighth meeting of the Serbian Parliamentary Energy Policy Forum (National Assembly House, 13 Nikola Pasic Square, Small Hall)

11.00 - sitting of the European Integration Committee (National Assembly House, 13 Nikola Pasic Square, hall 3)

11.00 - the members of the Defence and Internal Affairs Committee and the Foreign Affairs Committee meet with German Bundestag member A. Neu (National Assembly House, 13 Nikola Pasic Square, hall 2)

12.15 - the members of the European Integration Committee and the Foreign Affairs Committee meet with German Bundestag member J. Juratovic (National Assembly House, 13 Nikola Pasic Square, hall 2)

13.00 - press conference of MP Nada Kostic (National Assembly House, 13 Nikola Pasic Square, Central Hall)