National Assembly of the Republic of Serbia / Activities / Activity details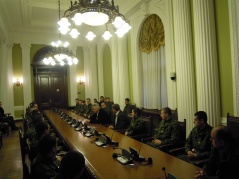 13 March 2012 National Assembly Secretary General Veljko Odalovic talks to the cadets of the Military Academy's 136th class
Tuesday, 13 March 2012
National Assembly Secretary General Talks to Military Academy Cadets Class 136
Today, at the National Assembly House, National Assembly Secretary General Veljko Odalovic talked to the cadets of the Military Academy's 136th class and their professors Dr Zoran Jeftic and Milenko Lalovic.
---
Greeting the Military Academy cadets, the Secretary General stressed that their visit was taking place on the day when the parliamentary election was called in which they, using their right to vote, could directly influence the election of members of parliament this time.
Veljko Odalovic briefed the cadets on the amendments made to the manner in which MPs are elected as stipulated in the Law amending and modifying the Law on Election of Deputies adopted in 2011. The National Assembly Secretary General also informed the guests on the National Assembly's representative, legislative and control function, adding that the National Assembly was the authority which implemented democratic control over the security sector.
Veljko Odalovic stressed that in the last four years a great many young people visited the National Assembly, learned about its organisation and manner of operation, as well as about the edifice itself, adding that such visits help better understand the importance of the job performed at the National Assembly.
Following the meeting with the Secretary General, the Military Academy cadets and their professors were taken on a tour of the National Assembly House.

---
---
thursday, 30 march
11.00 - the National Assembly Speaker meets with the UN Human Rights Council Special Rapporteur for the promotion and protection of the right to freedom of opinion and expression (National Assembly House, 13 Nikola Pasic Square, hall 1)

11.30 - the Head of the PFG with Hungary meets with the Hungarian Ambassador to Serbia (National Assembly House, 13 Nikola Pasic Square, hall 2)

11.30 - SSP, PSG, OVERTURN, SLOGA; GREEN – LEFT CLUB, DON'T LET BELGRADE D(R)OWN, WE HAVE TO and People's Party parliamentary groups (National Assembly House, 13 Nikola Pasic Square, Central Hall)

12.00 - sitting of the Committee on Finance, State Budget and Control of Public Spending (National Assembly House, 13 Nikola Pasic Square, hall 3)

13.00 - sitting of the Environmental Protection Committee (Municipality of Babusnica building, 1 Ratka Pavlovica)