National Assembly of the Republic of Serbia / Activities / Activity details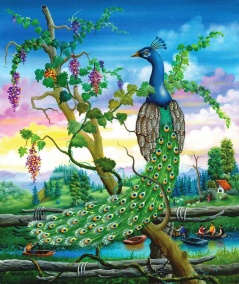 27 October 2017 The National Assembly House hosts exhibition "Naive Art of Serbia"
Friday, 27 October 2017
National Assembly House Hosts Exhibition "Naive Art of Serbia"
The National Assembly House is hosting "Naive Art of Serbia", an exhibition of 41 pieces painted by 21 naïve artists. The exhibition showcases the artwork of naïve painters who have had both individual and group exhibitions in the country and at the most renowned international exhibitions, and whose artwork is considered the very pinnacle of the naïve art world.
---
Among others, the exhibition comprises the paintings of Jan Bacur, Zuzana Chalupova, Jan Glozik, Dragan Gligorijevic, Milovan Lazarevic, Vladimira Kepic and Dragan Mihailovic.
The exhibition closes on 10 November 2017.
Those interested to see it can do so every workday, having previously applied with the Education and Assembly Heritage Presentation Group to ascertain group and time of visit. Education and Assembly Heritage Presentation Group contact phone:
011/3026-273
, and e-mail
edukacija@parlament.rs
.
---
---
tuesday, 6 june
8.45 - the National Assembly Speaker meets with a delegation of the Polish Sejm Foreign Affairs Committee (National Assembly House, 13 Nikola Pasic Square, hall 1)

10.00 - the Chairman and members of the National Assembly Foreign Affairs Committee meet with the delegation of the Polish Sejm Foreign Affairs Committee (National Assembly House, 13 Nikola Pasic Square, hall 2)

10.00 - continuation of the Third Extraordinary Session of the National Assembly of the Republic of Serbia, 13th Legislature (National Assembly House, 13 Nikola Pasic Square)

11.10 - the Head and members of the PFG with Poland meet with the delegation of the Polish Sejm Foreign Affairs Committee (National Assembly House, 13 Nikola Pasic Square, hall 2)

12.10 - presentation of the stamp bearing the image of Nicolaus Copernicus for the delegation of the Polish Sejm Foreign Affairs Committee (National Assembly House, 13 Nikola Pasic Square, library)