National Assembly of the Republic of Serbia / Activities / Activity details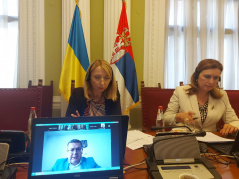 7 June 2022 Foreign Affairs Committee Deputy Chairperson Vesna Markovic and Committee member Dubravka Filipovski
Tuesday, 7 June 2022
National Assembly Foreign Affairs Committee Holds Meeting with and Ukrainian Verkhovna Rada
Foreign Affairs Committee Deputy Chairperson Vesna Markovic and Committee member Dubravka Filipovski held a video meeting today with the members of the Committee on Foreign Affairs and Interparliamentary Cooperation of the Verkhovna Rada of Ukraine to discuss the current situation in Ukraine and the possibilities to advance interparliamentary and overall bilateral cooperation.
---
After the Chairman of the Ukrainian Verkhovna Rada's Committee on Foreign Affairs and Interparliamentary Cooperation Oleksandr Merezhko had outlined the current situation in his country, Foreign Affairs Committee Deputy Chairperson Vesna Markovic expressed sympathy with the friendly Ukrainian people and regret for the large number of victims and destruction in Ukraine. She went on to express hope that the conflicts would stop as soon as possible and a peaceful and sustainable solution be reached.
Vesna Markovic stressed that Serbia supports international law and the territorial integrity and sovereignty of Ukraine, thanking the country for its principled position and the same support for Serbia. The Republic of Serbia has supported numerous resolutions, declarations, decisions and statements in the UN, OSCE and EU, condemning the Russian aggression against Ukraine, as well as the violation of the principles of international law. She also pointed out that all necessary support would be given to Ukrainian refugees in Serbia.
In the course of the meeting, Dubravka Filipovski stressed that it is vital to establish peace as soon as possible adding that that our people are well aware of what war means having gone through suffering of that kind and exile in recent history.
The officials agreed that Serbia and Ukraine are two friendly countries that strive for the same goal - membership in the European Union. They opined that the interparliamentary cooperation between the two countries could be intensified, both through contacts between the parliamentary friendship groups and through cooperation of the committees in charge of European integration. Markovic also emphasised the MPs' readiness to share their experiences related to European integration with their Ukrainian colleagues.
---
---
saturday, 3 june
No announcements for selected date