National Assembly of the Republic of Serbia / Activities / Activity details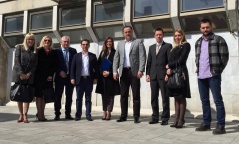 18 April 2015 The National Assembly Economic Caucus in visit to Arandjelovac
Saturday, 18 April 2015
National Assembly Economic Caucus Visits Arandjelovac
The Deputy Speaker of the National Assembly of the Republic of Serbia, Prof. Dr Vladimir Marinkovic presided over the meetings of the Economic Caucus in Arandjelovac
---
The MPs, members of the Economic Caucus, representatives of IRI and NALED met with the representatives of the local self-government and the entrepreneurs of companies Pestan and Bekament.
They were briefed in great detail on the potentials of Arandjelovac, as well as the problems troubling the entrepreneurs in the region.

The Caucus announced that the MPs would soon be meeting with entrepreneurs from all over Serbia, especially with domestic companies, in order to gain better insight into the current economic situation and to actively work on legislation that could take some of the load off the entrepreneurs and ensure them a good business environment conducive to new employment.

The meetings were also attended by MPs Katarina Rakic, Zoran Babic, Ivan Jovanovic, Dejan Radenkovic, Aleksandar Senic and Milosav Milojevic, MP from Arandjelovac who was the initiator of the visit.


---
---
monday, 30 november
9.00 - National Assembly Speaker Ivica Dacic at the online Council session and 13th Plenary Session of the Collective Security Treaty Organisation (National Assembly House, 13 Nikola Pasic Square, hall 1)

11.00 - sitting of the Environmental Protection Committee (National Assembly House, 13 Nikola Pasic Square, hall 4)

12.00 - National Assembly Speaker Ivica Dacic meets with the the Chairman of the House of Representatives of the Parliamentary Assembly of Bosnia and Herzegovina Nebojsa Radmanovic (National Assembly House, 13 Nikola Pasic Square, hall 1)

12.45 - press conference of National Assembly Speaker Ivica Dacic and the Chairman of the House of Representatives of the Parliamentary Assembly of Bosnia and Herzegovina Nebojsa Radmanovic (National Assembly House, 13 Nikola Pasic Square, Central Hall)