National Assembly of the Republic of Serbia / Activities / Activity details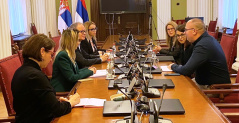 27 March 2023 The participants of the meeting
Monday, 27 March 2023
National Assembly Deputy Speaker Zoran Lutovac Speaks with CRTA Representatives about Improving Fight against Femicide
National Assembly Deputy Speaker Zoran Lutovac received representatives of CRTA in the National Assembly House to discuss the problem femicide in Serbia and ways to prevent it.
---
CRTA Deputy Program Director Tamara Brankovic was interested in how the National Assembly can more get involved in solving the problem. She stressed that femicide is a burning issue that requires the involvement of the widest public and that she hopes that the unification of the civil sector in the fight against this problem will be a good practice example for solving other issues of general interest.
Deputy Speaker Lutovac pointed out that the problem of femicide is an issue that transcends political differences and as such requires concerted action by political actors, state institutions and the non-governmental sector. He believes that the National Assembly plays an important role in this, one which can be further improved through active participation in committees, as well as through the institute of MPs' questions. Lutovac stressed that as the National Assembly Deputy Speaker he believes that the combating femicide is an extremely important issue for building a society of justice, society without violence, adding that he would do everything in his power to bring this important issue into public focus.
He also emphasised the importance of the media in this process, underlining the importance of preventive reaction, not just dealing with the consequences.
---
---
friday, 9 june
No announcements for selected date