National Assembly of the Republic of Serbia / Activities / Activity details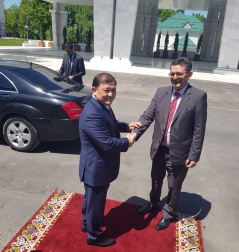 20 May 2019 National Assembly Deputy Speaker Veroljub Arsic with the Speaker of the Parliament of the Kyrgyz Republic Dastanbek Dzhumabekov
Monday, 20 May 2019
National Assembly Deputy Speaker Veroljub Arsic meets with Kyrgyz Parliament Speaker Dastanbek Dzhumabekov
In Bishkek, National Assembly Deputy Speaker Veroljub Arsic met with the Speaker of the Parliament of the Kyrgyz Republic Dastanbek Dzhumabekov. Both officials reaffirmed the interest in a more active development of cooperation between the two countries to contribute to the intensification of relations between Serbia and the Kyrgyz Republic.
---
Arsic said that both sides are interested in advancing political dialogue which he hoped this visit would contribute to. He noted that the relations between the two countries are traditionally good with no outstanding issues and thanked the Kyrgyz Republic for its principled support of Serbia's sovereignty and territorial integrity and the fact that it had voted against so-called Kosovo's UNESCO and INTERPOL bids. Speaking of the Belgrade-Pristina dialogue, Arsic said that Belgrade had fulfilled all of its obligations under the Brussels Agreement, while Pristina fulfilled none.
He added that Belgrade would be hosting the 141st IPU assembly in October, which he hopes would be attended by a high-tier Kyrgyz delegation.
He opined that there is ample room to expand cooperation in a variety of fields, especially the economy since the two countries have not used their potential for it to its fullest.
The Speaker of the Parliament of the Kyrgyz Republic said that the Kyrgyz side is ready to advance interparliamentary cooperation and dialogue which can be done by reciprocal high-tier parliamentary visits. He added that interparliamentary relations can also be strengthened at the level of parliamentary friendship groups, saying that the PFG with Serbia in the Kyrgyz Parliament was set up in 2015 and boasts four members.
He said that there is ample potential to advance economic cooperation and trade, opining that last year's reciprocal abolition of visas would affect the two countries' bilateral relations.


---
---
| M | T | W | T | F | S | S |
| --- | --- | --- | --- | --- | --- | --- |
| 26 | 27 | 28 | 29 | 30 | 31 | 1 |
| 2 | 3 | 4 | 5 | 6 | 7 | 8 |
| 9 | 10 | 11 | 12 | 13 | 14 | 15 |
| 16 | 17 | 18 | 19 | 20 | 21 | 22 |
| 23 | 24 | 25 | 26 | 27 | 28 | 29 |
| 30 | 31 | 1 | 2 | 3 | 4 | 5 |
wednesday, 4 august
No announcements for selected date