National Assembly of the Republic of Serbia / Activities / Activity details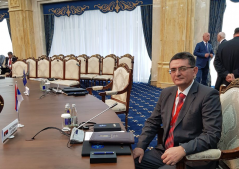 20 May 2019 National Assembly Deputy Speaker Veroljub Arsic at SCTO PA session in Bishkek
Monday, 20 May 2019
National Assembly Deputy Speaker Veroljub Arsic at CSTO PA Session in Bishkek
The session of the Parliamentary Assembly of the Collective Security Treaty Organisation (CSTO PA), held outside of CSTO PA seat in Bishkek, Kyrgyz Republic, was chaired by the Speaker of the Russian State Duma and Chairman of the CSTO PA Council Vyacheslav Volodin.
---
The representatives of the parliaments of CSTO member states discussed combating general security threats and Vyacheslav Volodin emphasized the need to combat drug trade, terrorism and organized crime.
The officials also voiced their ideas how to boost the efficiency of cooperation.
Addressing the CSTO PA Council members, Arsic said that Serbia remains firmly committed to military neutrality and cooperation with all of its friends on equal terms and to mutual benefit, standing for peace, stability and respect for international law. In that context he stressed that, while maintaining multilateral cooperation to fortify its own and broader security and stability, Serbia has no intention or wish to become a member of NATO.
He thanked the CSTO member states for their continued principled support on the Kosovo-Metohija matter and non-recognition of its unilaterally declared independence.
The CSTO PA session in Bishkek, Kyrgyz Republic, was attended by the heads of parliament of the CSTO member states – Russia, Belarus, Armenia, Tajikistan, Kazakhstan and Kyrgyzstan. The Republic of Serbia attended in the capacity of observer.


---
---
| M | T | W | T | F | S | S |
| --- | --- | --- | --- | --- | --- | --- |
| 27 | 28 | 29 | 30 | 31 | 1 | 2 |
| 3 | 4 | 5 | 6 | 7 | 8 | 9 |
| 10 | 11 | 12 | 13 | 14 | 15 | 16 |
| 17 | 18 | 19 | 20 | 21 | 22 | 23 |
| 24 | 25 | 26 | 27 | 28 | 29 | 30 |
| 31 | 1 | 2 | 3 | 4 | 5 | 6 |
friday, 14 august
No announcements for selected date