National Assembly of the Republic of Serbia / Activities / Activity details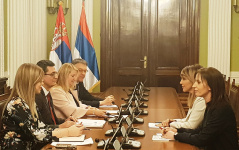 5 February 2019 National Assembly Deputy Speaker Veroljub Arsic in meeting with Regional Cooperation Council Secretary General Majlinda Bregu
Tuesday, 5 February 2019
National Assembly Deputy Speaker Veroljub Arsic Meets with Regional Cooperation Council Secretary General Majlinda Bregu
National Assembly Deputy Speaker Veroljub Arsic met today, at the National Assembly House, with Majlinda Bregu and congratulated her, on behalf of the National Assembly Speaker and himself, on being elected Secretary General of the Regional Cooperation Council.
---
First off, Arsic stressed that the National Assembly has enjoyed excellent cooperation with the Regional Cooperation Council and its experts under the Auspices of the South East Europe Cooperation Process Parliamentary Assembly, hoping that the cooperation would continue apace in the coming period. He said that the Serbian Government and the National Assembly staunchly affirm that the Republic of Serbia is determined to build a democratic society, based on the rule of law, respect of human and minority rights, principles of market economy, and to build up its state institutions in line with EU accession criteria.
Arsic went on to speak about Serbia's strategic commitment to EU accession, adding that the National Assembly majority endorses the efforts. He informed the Secretary General that Serbia had started the negotiation process in 2014 and opened the first negotiation chapters in 2015, having so far opened 16, two of which have been temporarily closed.
Deputy Speaker Arsic informed the Secretary General about the National Assembly's activities concerning the EU accession process, stressing the importance of cooperation with the civil society and experts via the National Convention on the European Union which coordinates the European Movement in Serbia. The National Convention comprises more than 700 NGOs in Serbia covering all areas subject to the negotiations and is essential for the process at large.
Regional Cooperation Council Secretary General Majlinda Bregu thanked the Deputy Speaker for the detailed briefing, saying that she herself as the Chairperson of the Albanian Parliament's European Integration Committee had dealt with the issues concerning the Western Balkans and the problems troubling the parliaments in the Western Balkans are largely the same. She said that the Regional Cooperation Council supports the South East Europe Cooperation Process Parliamentary Assembly mainly through cooperation with the SEECP executive in four areas – digitalization, trade, investment and mobility.
The officials also spoke about the coming conference on Digital Technologies to be held in April and hosted by Belgrade. The conference will be attended by the prime ministers and ministers of foreign affairs of the countries in the region. They also spoke about increasing mobility and connectivity in the region by abolishing roaming charges and ensuring the recognition of school diplomas.


---
---
| M | T | W | T | F | S | S |
| --- | --- | --- | --- | --- | --- | --- |
| 26 | 27 | 28 | 29 | 30 | 31 | 1 |
| 2 | 3 | 4 | 5 | 6 | 7 | 8 |
| 9 | 10 | 11 | 12 | 13 | 14 | 15 |
| 16 | 17 | 18 | 19 | 20 | 21 | 22 |
| 23 | 24 | 25 | 26 | 27 | 28 | 29 |
| 30 | 31 | 1 | 2 | 3 | 4 | 5 |
wednesday, 4 august
No announcements for selected date