National Assembly of the Republic of Serbia / Activities / Activity details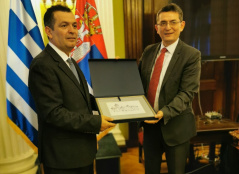 22 February 2020 National Assembly Deputy Speaker Veroljub Arsic and the Head of the Greece-Serbia PFG Christos Boukoros
Saturday, 22 February 2020
National Assembly Deputy Speaker Veroljub Arsic Meets with Head of Greece-Serbia PFG
The Deputy Speaker of the National Assembly of the Republic of Serbia Veroljub Arsic met today at the National Assembly House with the Head of Greece-Serbia Parliamentary Friendship Group Christos Boukoros.
---
Arsic highlighted the recent intensification of cooperation between Serbia and Greece at all levels, recalling last year's visits of Serbian President Aleksandar Vucic and Prime Minister Ana Brnabic to Greece. He explained that there is room to strengthen the relations between the two countries, mentioning culture and tourism as two areas of special interest.
The Deputy Speaker reminded the guest that the Commission for cooperation between the two countries' parliament was launched at his initiative, adding that the PFG with Greece is one of the largest in the Serbian Assembly which testifies to the MPs' interest in developing friendly relations and advancing parliamentary cooperation with Greece.
Arsic thanked Greece for its unwavering support of Serbia's territorial integrity and sovereignty, explaining that Serbia greatly appreciates the country's stance on the so-called state of Kosovo.
The Head of Greece-Serbia Parliamentary Friendship Group Christos Boukoros said that the two countries have a special brotherly relationship dating centuries back and added that he would spare no effort to advance the diplomatic relations with Serbia and raise them to a higher level.
Boukoros said that new options for parliamentary cooperation are opening up and he hopes the PFG with Greece would soon visit his country. He stressed that Greece remains firm in its decision to never recognize the independence of the southern Serbian province, adding that the Republic of Serbia also has their active support for EU accession.
Finally, the officials opined that parliamentary diplomacy can greatly contribute to the development of relations between the two countries at all levels.

---
---