National Assembly of the Republic of Serbia / Activities / Activity details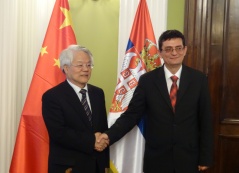 29 June 2015 National Assembly Deputy Speaker Veroljub Arsic and the Deputy Chairman of the Chinese People's Political Consultative Conference Foreign Affairs Committee Cai Wu
Monday, 29 June 2015
National Assembly Deputy Speaker Veroljub Arsic Meets with Chinese People's Political Consultative Conference Foreign Affairs Committee Delegation
National Assembly Deputy Speaker Veroljub Arsic met with a delegation of the Chinese People's Political Consultative Conference Foreign Affairs Committee, headed by the Deputy Chairman Cai Wu, at the National Assembly.
---
The officials opined that the relations between the two states and nations are traditionally good and friendly, adding that the mutual support Serbia and China offer one another is very significant, too.

National Assembly Deputy Speaker Veroljub Arsic was especially grateful to China for its principled stance on the stratus of Kosovo-Metohija and respect for Serbia's territorial integrity. China also proved its friendship by its assistance in containing the damage caused by the May floods in Serbia last year, said Veroljub Arsic.

He added that Serbia is ready to boost cooperation with China in a number of spheres – political, economic, cultural, scientific and educational. He stressed that though the economic cooperation is at an admirable level and Chinese companies are participating in several important infrastructural projects in Serbia, that there is room to further it. The National Assembly Deputy Speaker briefed the guests on the intensive reforms Serbia is conducting to improve the investment environment, with a special focus on the amendments and modifications to the Labour Law and the Law on Planning and Construction which the National Assembly had passed in 2014.

Educational cooperation can also be improved by organising student exchange programmes where the students could learn about their respective cultures and history, Veroljub Arsic opined.

The Deputy Chairman of the Chinese People's Political Consultative Conference Foreign Affairs Committee Cai Wu said that Serbia is the first country in the region of South East Europe to establish a strategic partnership with China, stressing that it has been a reliable economic partner to China. He highlighted the successful Economic and Trade Forum of China and 16 central and eastern European countries that gathered the leaders of these countries in Belgrade in December of last year. Cai Wu commended the reform processes in Serbia, agreeing with Deputy Speaker Arsic on the importance of and potential for intensifying economic, cultural and educational cooperation.

The meeting was also attended by the Ambassador of the People's Republic of China to the Republic of Serbia, H.E. Li Manchang.


---
---
| M | T | W | T | F | S | S |
| --- | --- | --- | --- | --- | --- | --- |
| 27 | 28 | 29 | 30 | 31 | 1 | 2 |
| 3 | 4 | 5 | 6 | 7 | 8 | 9 |
| 10 | 11 | 12 | 13 | 14 | 15 | 16 |
| 17 | 18 | 19 | 20 | 21 | 22 | 23 |
| 24 | 25 | 26 | 27 | 28 | 29 | 30 |
| 31 | 1 | 2 | 3 | 4 | 5 | 6 |
friday, 7 august
No announcements for selected date