National Assembly of the Republic of Serbia / Activities / Activity details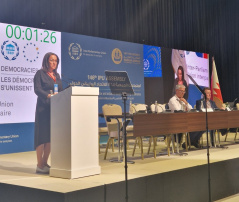 12 March 2023 Head of the National Assembly delegation to the Inter-Parliamentary Union Snezana Paunovic
Sunday, 12 March 2023
National Assembly Deputy Speaker Snezana Paunovic Elected IPU Forum of Women Parliamentarians Bureau Member
At the 146th IPU Assembly, Head of the delegation of the National Assembly of the Republic of Serbia to the Inter-Parliamentary Union (IPU) and Parliament Deputy Speaker Snezana Paunovic was elected member of the Bureau of the IPU Forum of Women Parliamentarians.
---
The forum works to affirm the social position of women and is an effective way to strengthen ties between female parliamentarians around the world and to empower female politicians. It gives women parliamentarians the opportunity to learn how other countries deal with gender inequality and provides women parliamentarians with a unique global platform to input into international decision-making.
In the presentation of her candidacy, National Assembly Deputy Speaker Snezana Paunovic said that today we are witnessing women bravely walking the paths which had once been reserved for the male part of the population only.
Paunovic underlined the importance of the active involvement of women in the decision-making process, because that is the only way to contribute to the improvement of their position.
Snezana Paunovic has actively and dedicatedly participated in the fight for women's rights and empowerment for years. She is one of the founders of the Women's Parliamentary Network in the National Assembly of the Republic of Serbia.
---
---
monday, 11 december
10.00 - Deputy Chairperson of the Committee on Human and Minority Rights and Gender Equality Natasa Tasic Knezevic speaks at the conference Business and Human Rights (National Assembly House, 13 Nikola Pasic Square, Small Hall)

10.00 - the PFG with Israel meets with the representatives of the Israeli Embassy in Serbia (National Assembly House, 13 Nikola Pasic Square, library)

14.30 - press conference of MP Aleksandar Jerkovic (National Assembly House, 13 Nikola Pasic Square, Central Hall)