National Assembly of the Republic of Serbia / Activities / Activity details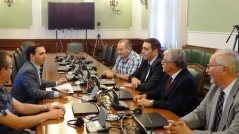 19 July 2016 Deputy Speaker Marinkovic and the delegation of the Christian Police Association
Tuesday, 19 July 2016
National Assembly Deputy Speaker Prof. Dr Vladimir Marinkovic Receives Delegation of Swiss Christian Police Association
National Assembly Deputy Speaker Prof. Dr Vladimir Marinkovic met today with a delegation of the Swiss Christian Police Association to discuss cooperation between the organization and the National Assembly.
---
Marinkovic informed the members of the Association about the new reformed regulations governing the work of the police and improving the working conditions of police officers in Serbia. He endorsed the Association's idea to exchange experiences concerning the fight against corruption and police cooperation between Serbia and Switzerland, which could be greatly aided by a roundtable or public hearing co-organized by the relevant National Assembly committees, Serbian Ministry of Interior and the Association.

Felix Ceccato, President of the Christian Police Association, briefed Deputy Speaker Marinkovic on the Association's activities and projects, as well as its cooperation with state authorities in Eastern Europe.
The meeting was also attended by Ljubo Radovanovic, Burkhard Werner, Jovica Popov and Viktor Sabo, of the Christian Police Association, as well as the President of the Protestant-Evangelical Alliance of Serbia Samuil Petrovski.


---
---
monday, 25 january
10.30 - Conference of the Women's Parliamentary Network (National Assembly House, 13 Nikola Pasic Square, Grand Hall)

11.00 - sitting of the Agriculture, Forestry and Water Management Committee (National Assembly House, 13 Nikola Pasic Square, hall 3)

11.10 - press conference of National Assembly Speaker Ivica Dacic, Prime Minister Ana Brnabic and WPN Coordinator Sandra Bozic (National Assembly House, 13 Nikola Pasic Square, Central Hall)

14.30 - sitting of the Committee on Constitutional and Legislative Issues (National Assembly House, 13 Nikola Pasic Square, hall 4)