National Assembly of the Republic of Serbia / Activities / Activity details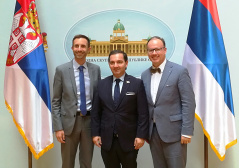 5 July 2019 National Assembly Deputy Speaker Prof. Dr Vladimir Marinkovic and the delegation of the Assembly of European Regions
Friday, 5 July 2019
National Assembly Deputy Speaker Prof. Dr Vladimir Marinkovic Receives Delegation of Assembly of European Regions
National Assembly Deputy Speaker Prof. Dr Vladimir Marinkovic received a delegation of the Assembly of European Regions at the National Assembly today to discuss cooperation and exchanging experiences and best practice in achieving uniform regional development.
---
Deputy Speaker Marinkovic said that an unequal regional development is a problem that plagues the Western Balkan region where big cities are always much more developed and richer than other areas resulting in a migration from rural areas to the cities. Marinkovic said that the potential for the development of agriculture and tourism in the rural areas of Serbia should be utilized and encouraged, as should the development of local self-governments and motivating young people to stay to live and work in rural areas.
Marinkovic said that the Serbian Government is doing all in its power to promote the uniform development of all parts of Serbia and decentralization by investing into infrastructure, especially of roads. He listed some notable results such as the imminent completion of Corridor 10, the ongoing work on Corridor 11 connecting Serbia with Montenegro, and the planned highway Belgrade-Prokuplje-Pristina-Tirana to strengthen the economic cooperation with Albania.
The President of the Assembly of European Regions Magnus Berntsson said that the independent network, uniting the regions of 35 states and 15 interregional organizations, cooperates with national governments by providing them with information on different types of decentralizations, as well as with local and regional governments where it provides support in the use of EU funds by sharing best practice examples.
The officials agreed that the Assembly's existing cooperation with AP Vojvodina should be accompanied by intensifying cooperation with other local self-governments in Serbia through an exchange of experiences and best practice examples of regional development, cooperation with the EU and use of pre-accession funds.


---
---
saturday, 5 december
No announcements for selected date