National Assembly of the Republic of Serbia / Activities / Activity details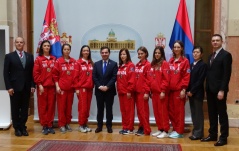 5 April 2016 National Assembly Deputy Speaker Prof. Dr Vladimir Marinkovic and the delegation of Serbia's women's national kendo team
Tuesday, 5 April 2016
National Assembly Deputy Speaker Prof. Dr Vladimir Marinkovic Met with Serbian Women's National Kendo Team
National Assembly Deputy Speaker Prof. Dr Vladimir Marinkovic welcomed a delegation of Serbia's women's national kendo team to celebrate their winning the silver medal at the European Championship in Macedonia, on 1 April.
---
Marinkovic congratulated the women's national team on the exceptional results they achieved among 21 other national teams, adding that the National Assembly is always open to help and support sports that though not very popular in the country, achieve commendable success.

Vladan Glavonjic of the Serbian Kendo Alliance thanked the Deputy Speaker for the support mentioning the possibility that Serbia may host the 2019 Kendo Championship, and the national team, headed by coach Hitomi Kumon, added that they appreciated the support and hoped to meet again to celebrate a gold medal in a future international competition.


---
---
monday, 29 november
9.00 - sitting of the Committee on Constitutional and Legislative Issues (National Assembly House, 13 Nikola Pasic Square, hall 2)

11.00 - sitting of the Committee on Constitutional and Legislative Issues (National Assembly House, 13 Nikola Pasic Square, hall 2)