National Assembly of the Republic of Serbia / Activities / Activity details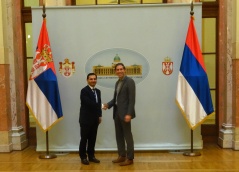 28 November 2015 National Assembly Deputy Speaker Prof. Dr Vladimir Marinkovic and US Department of State Special Adviser Andrew Rabens
Saturday, 28 November 2015
National Assembly Deputy Speaker Prof. Dr Vladimir Marinkovic Meets with US Department of State Special Adviser Andrew Rabens
National Assembly Deputy Speaker Prof. Dr Vladimir Marinkovic met today, 28 November, at the National Assembly House, with US Department of State Special Adviser Andrew Rabens, currently in visit to Serbia.
---
Opening the meeting, Deputy Speaker Marinkovic said he was honoured to discuss with Rabens an exchange of best practices and experiences applicable in Serbia concerning the development of entrepreneurship, education of young people and their needs to launch private businesses and initiatives, design business plans and turn to the private sector as the best opportunity to secure a better future for themselves and their family.

He stressed it was very important for Serbia to draw on and implement the ideas concerning state subsidies and the creation of a favourable business environment used across the US.

On the occasion, Rabens, currently in Serbia to take part in the International Summit of 100 Young Leaders of South Eastern Europe, said he was pleased to be invited to the National Assembly and be given the opportunity to share his country's experience in the development of entrepreneurship and motivating young people to engage in it, and invited Deputy Speaker Marinkovic to take part in next year's Entrepreneurship Summit in the US, with a view to opening new opportunities and initiatives which could be applied in Serbia.

Speaking of funding of young people's projects, the officials also discussed the potential connection between the private and state sector, and agreed that the state should set up a guarantee fund to finance the best projects and encourage big private companies to finance the best business plans, with the aim of employing young people.

Marinkovic and Rabens also discussed education and setting up technology parks in Serbia to provide logistic support to the establishment of companies, and also spoke about the legislation conducive to start-ups, their launching and dynamic operation.

Besides US Department of State Special Adviser Andrew Rabens, the meeting was also attended by Marija Jelic of the School of Business Skills.

The meeting was headed by National Assembly Deputy Speaker Prof. Dr Vladimir Marinkovic.


---
---
wednesday, 8 july
13.00 - press conference of MPs Sasa Radulovic, Branka Stamenkovic and Vojin Biljic (National Assembly House, 13 Nikola Pasic Square, Central Hall)

13.45 - press conference of MP Prof. Dr Miladin Sevarlic (National Assembly House, 13 Nikola Pasic Square, Central Hall)

14.20 - press conference of MP Djordje Vukadinovic (National Assembly House, 13 Nikola Pasic Square, Central Hall)