National Assembly of the Republic of Serbia / Activities / Activity details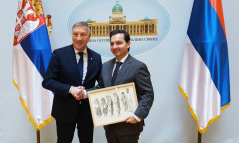 19 December 2018 National Assembly Deputy Speaker Prof. Dr Vladimir Marinkovic and Parliamentary Assembly of La Francophonie Secretary-General Jacques Krabal
Wednesday, 19 December 2018
National Assembly Deputy Speaker Prof. Dr Vladimir Marinkovic Meets with Secretary-General of Parliamentary Assembly of La Francophonie
National Assembly Deputy Speaker Prof. Dr Vladimir Marinkovic met today with Jacques Krabal, Secretary-General of the Parliamentary Assembly of La Francophonie, to discuss cultural, economic and political cooperation.
---
First off, the National Assembly Deputy Speaker said that the Republic of Serbia respects the values of solidarity and cooperation La Francophonie is based on, adding that the French language has been part of the Serbian school curriculum for two centuries now.
"The National Assembly's standing delegation is taking active part in the work of the Parliamentary Assembly of La Francophonie as much as possible", said Marinkovic, adding that Serbia has had the status of observer since 2008. In 2018, the standing delegation participated in the conference of heads of APF delegations from the European region in Bucharest, plenary session in Quebec City, Canada, and the session for the region of Europe in Andorra. The National Assembly respects the principles of solidarity and intercultural dialogue as the objectives contained in the Charter of La Francophonie, added Marinkovic. He stressed that Serbia is becoming more active in the field of parliamentary diplomacy and the Assembly would like to launch proceedings to change the country's status with the APF and would like the support to achieve this goal. The Deputy Speaker said that the National Assembly supports the Government's reform policies by passing economics laws to bring the legal system closer to that of the European Union, joining which remains one of the countries' chief foreign policy goals, as well as to improve the quality of life of Serbian citizens.
Krabal praised Serbia's willingness to reform, highlighting its political stability. He said that the National Assembly delegation's active participation in La Francophonie is indisputable and he would support Serbia's bid to change its status from observer to that of associate member. The Secretary-General said that Serbia and France share a long-standing friendship and that France has not forgotten its great WWI ally. Krabal said that culture and democracy are the keystones of La Francophonie, but they have to be strengthened and bolstered by an economic aspect. The Parliamentary Assembly of La Francophonie has undertaken the task of passing an action plan for 2019-2022, containing new objectives. He added that democracy is in the very heart of La Francophonie, but human progress is also important and dialogue is vital for the development of cooperation and trade.
The officials also discussed overall cultural cooperation, as well as closer economic cooperation and possible establishment of joint business councils.


---
---
wednesday, 23 june
9.00 - sitting of the Committee on Education, Science, Technological Development and the Information Society (National Assembly House, 13 Nikola Pasic Square, hall 3)

9.00 - sitting of the Agriculture, Forestry and Water Management Committee (National Assembly House, 13 Nikola Pasic Square, hall 4)

9.30 - sitting of the Defence and Internal Affairs Committee (National Assembly House, 13 Nikola Pasic Square, hall 2)

10.00 - Sixth Extraordinary Session of the National Assembly of the Republic of Serbia, 12th Legislature (National Assembly House, 13 Nikola Pasic Square)

11.00 - meeting of the Parliamentary Digital Security Network (National Assembly House, 13 Nikola Pasic Square, hall 2)

14.00 - the PFG with Malaysia meets with the Head of Mission of the Malaysian Embassy in Serbia (National Assembly House, 13 Nikola Pasic Square, hall 4)