National Assembly of the Republic of Serbia / Activities / Activity details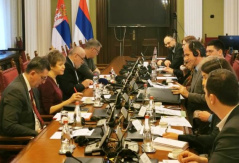 22 March 2023 The participants of the meeting
Wednesday, 22 March 2023
National Assembly Deputy Speaker Elvira Kovacs at Strengthening Parliamentary Democracy and Inclusive Political Dialogue – Phase Three UNDP Project Board Meeting
At today's meeting of the Project Board of project "Strengthening Parliamentary Democracy and Inclusive Political Dialogue – Phase Three", conducted by UNDP and the Swiss Cooperation Office, in cooperation with the National Assembly, National Assembly Deputy Speaker Elvira Kovacs expressed her satisfaction with the continued cooperation and congratulated the newly elected Resident Representative of the United Nations Development Program in Serbia (UNDP) Mr Yakup Beris.
---
"I am glad to have the opportunity to address you at this meeting and to remind you that I took part in a similar Project Board meeting on 5 February 2021, when we also discussed phase three of this project, during the COVID-19 pandemic. I would like to thank UNDP and the Swiss Cooperation Office (SCO) for supporting numerous activities at the parliamentary level, evident in the support for informal parliamentary groups, such as the GOPAC national branch, Sustainable Development Goals Focus Group and the Women's Parliamentary Network, in the form of expert support in the preparation of various analyses and research, reports and publications, organisation of meetings, conferences, seminars, promotion of activities", said Kovacs.
She reminded the attending that cooperation with UNDP and the Swiss Cooperation Office began in 2012, when project " Strengthening the Oversight Function and Transparency of the Parliament " was launched, aiming to provide support to the National Assembly in the establishment and strengthening of its supervisory mechanisms, with a special focus on responsible management of the state budget and bringing institutions closer to citizens, especially at the local level.
She also pointed to the aspect of cooperation that is reflected in the support for the work of the National Assembly committees, especially the Committee on Finance, State Budget and Control of Public Spending, Committee on the Economy, Regional Development, Trade, Tourism and Energy, European Integration Committee and the Environmental Protection Committee, the importance of which is particularly reflected in the domain of organising committee meetings outside the National Assembly seat and public hearings on various topics of interest to the citizens of the Republic of Serbia with representatives of non-governmental organisations and civil society.
She added that there is room for cooperation in ensuring inclusiveness of political dialogue, emphasising the importance of the transparency of the National Assembly's work and its image in the citizens' perception. "We believe that we, as members of parliament, should also influence the creation of a better image of the National Assembly, which has deteriorated significantly in recent years, and that is where our partners and the activities provided for in this project can be of great help to us," stressed the National Assembly Speaker.
In her presentation, Kovacs said that many of the projects financed by UNDP and the Swiss Cooperation Office had contributed to the development of the capacities of the National Assembly Support Service teams in the supervision, improvement of information exchange and involvement of citizens in the National Assembly's work, as well as in the establishment of an efficient monitoring system for public spending by the MPs.
---
---
wednesday, 29 november
18.10 - the Chairman of the Committee on Education, Science, Technological Development and the Information Society speaks at the celebration of International Students' Day (National Assembly House, 13 Nikola Pasic Square, Central Hall)