National Assembly of the Republic of Serbia / Activities / Activity details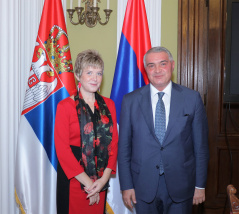 27 September 2022 National Assembly Deputy Speaker Elvira Kovacs with the non-resident Armenian Ambassador Ashot Hovakimyan
Tuesday, 27 September 2022
National Assembly Deputy Speaker Elvira Kovacs Meets with Armenian Ambassador
National Assembly Deputy Speaker and Chairperson of the European Integration Committee Elvira Kovacs met today with the non-resident Armenian Ambassador based in Prague H.E. Ashot Hovakimyan, currently visiting Serbia.
---
At the beginning of the meeting, Hovakimyan thanked the National Assembly Deputy Speaker for taking the time to meet with him, stressing that the objective of his visit is to establish contacts with the 13th legislature's MPs, as well as members of the National Assembly's delegations to international forums, with Kovacs taking the opportunity to inform the Ambassador that, among other things, she is also a member of the delegation to the Parliamentary Assembly of the Council of Europe (PACE). In a constructive conversation, the officials exchanged opinions and views on participating in the PACE, as well as on sensitive geopolitical issues.
The meeting also touched on the upcoming Summit of the European Political Community, to be held in Prague, and the goals of encouraging political dialogue and cooperation as a way to resolve issues of common interest to European countries in order to strengthen, first of all, security, as well as dialogue and the normalisation of relations between countries with outstanding issues.
In the course of the meeting, Kovacs thanked Armenia for its support of Serbia's territorial integrity and sovereignty, and the Ambassador took the opportunity to inform the National Assembly Deputy Speaker on the unenviable position and challenges Armenia has with neighbouring Azerbaijan.
The National Assembly Deputy Speaker stressed that since European integration is a common priority for both countries, this process could be another basis for cooperation between Serbia and Armenia. She added that the European integration process would certainly assist in and speed up comprehensive reforms in both countries.
The officials agreed that parliamentary cooperation is extremely important, as well as the exchange of experiences between the two countries, especially in terms of European integration since Serbia has the status of an EU candidate country, while Armenia, in order to strengthen its partnership with the EU, had signed an Comprehensive and Enhanced Partnership Agreement with the Union.
---
---
wednesday, 31 may
9.00 - the National Assembly Speaker meets with the National Assembly of the Republic of Slovenia PFG with Serbia (National Assembly House, 13 Nikola Pasic Square, hall 1)

10.00 - continuation of the Third Extraordinary Session of the National Assembly of the Republic of Serbia, 13th Legislature (National Assembly House, 13 Nikola Pasic Square)

11.15 - the members of the Foreign Affairs Committee and the European Integration Committee meet with the PFG of the National Assembly of the Republic of Slovenia (National Assembly House, 13 Nikola Pasic Square, hall 2)

12.00 - the members of the PFG with Slovenia meet with the PFG of the National Assembly of the Republic of Slovenia (National Assembly House, 13 Nikola Pasic Square, hall 2)

12.45 - press conference of the Head of the PFG with Slovenia Milija Miletic and the Head of the PFG of the National Assembly of the Republic of Slovenia Lena Grgurevic (National Assembly House, 13 Nikola Pasic Square, Central Hall)

13.00 - press conference of MP Аleksandar Olenik (National Assembly House, 13 Nikola Pasic Square, Central Hall)