National Assembly of the Republic of Serbia / Activities / Activity details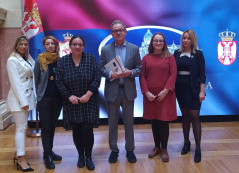 14 October 2022 Participants of the meeting
Friday, 14 October 2022
National Assembly Deputy Speaker Dr Zoran Lutovac Meets with Representatives of FemPlatz
National Assembly Deputy Speaker Dr Zoran Lutovac met today, at the National Assembly, with representatives of association FemPlatz from Pancevo to discuss the importance of combating violence against women and prevention of femicide.
---
Dr Zoran Lutovac said that the all-important social issue of combating violence against women overrides all political and ideological differences. The National Assembly Deputy Speaker said it was vital to raise social awareness and empathy for women victims of violence and establish better cooperation between the relevant factors and institutions in the fight against the burning issue that is femicide.
The representatives of FemPlatz Kosana Beker and Biljana Janjic, as well as Natalija Ostojic of UN WOMEN Serbia informed Dr Lutovac about their Initiative to set up a body to monitor femicide in Serbia which would collate all the available data on femicide in one place.
Expressing support for the presented initiative, Dr Zoran Lutovac stressed that he would, as Deputy Speaker of the National Assembly, personally invest efforts into tackling this social problem.
He opined that collating data and ensuring and efficient coordination of activities of institutions and authorities, as well as with the support and control at the level of the legislative, would help make serious strides in the fight against femicide.
---
---
saturday, 10 june
No announcements for selected date