National Assembly of the Republic of Serbia / Activities / Activity details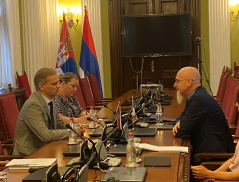 31 August 2022 National Assembly Deputy Speaker Borko Stefanovic in meeting with Italian Ambassador to Serbia
Wednesday, 31 August 2022
National Assembly Deputy Speaker Borko Stefanovic Meets with Italian Ambassador to Serbia
National Assembly Deputy Speaker Borko Stefanovic met today at the National Assembly House with the Ambassador of the Republic of Italy to the Republic of Serbia Luca Gori to discuss the current issues in Serbia and Europe.
---
Stefanovic and the Ambassador talked about current issues in Europe, the Western Balkans, negotiations between Belgrade and Pristina and Serbia's European integration process.
Gori said that the goal of his visit to the National Assembly today is to gain a broader picture of the parliamentary atmosphere, what with the current legislature's pluralism. He went on to say that Italy will re-establish command over KFOR in Kosovo-Metohija in October of this year and informed the Deputy Speaker about the coming parliamentary elections in Italy in September.
The officials agreed that there is room to improve overall cooperation, both parliamentary and economic.
---
---
wednesday, 4 october
9.00 - sitting of the Committee on Finance, State Budget and Control of Public Spending (National Assembly House, 13 Nikola Pasic Square, hall 2)

10.00 - the National Assembly Speaker meets with the Chinese Ambassador to Serbia (National Assembly House, 13 Nikola Pasic Square, hall 1)

12.00 - sitting of the Culture and Information Committee (National Assembly House, 13 Nikola Pasic Square, hall 4)