National Assembly of the Republic of Serbia / Activities / Activity details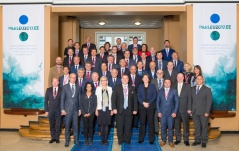 22 September 2017 The delegation of the National Assembly at the meeting of the chairpersons of economic affairs committees on transport connections in Europe
Friday, 22 September 2017
National Assembly Delegation at Meeting of Chairpersons of Economic Affairs Committees on Transport Connections in Europe
The meeting of the chairpersons of economic affairs committees dedicated to transport connections in Europe was held on 21 and 22 September 2017 in Tallinn, Estonia, under the auspices of the parliamentary dimension of the country's presidency of the Council of the European Union.
---
It was attended by representatives of the 28 EU member states, the European Parliament and European Commission, as well as the EU candidate countries. The delegation of the National Assembly's Committee on Spatial Planning, Transport, Infrastructure and Telecommunications comprised Stefana Miladinovic, Deputy Committee Chairperson, and Ivana Nikolic, substitute Committee member.
The meeting was opened by Eiki Nestor, President of the Estonian Parliament – Riigikogu, who said that transport connections are the cornerstone of EU integration, adding that a common transport policy has been an EU priority for the last 30 years.
At session I, Connecting Europe - EU Transport Policy, the participants said that the main objective is to complete the core EU Trans-European Transport Network by 2030 and the comprehensive network by 2050. Stefana Miladinovic stressed that the Republic of Serbia is strategically positioned and a key transport hub both for the EU and its connection with the Balkan region. Serbia strives to develop good-neighbourly relations in the region, said Miladinovic and reminded the attending of the recent summit of the region's prime ministers in July in Trieste where the attending signed a Transport Community Treaty giving the regional connections a formal legal framework.
The second topic, EU Aviation Strategy – state-of-play, focused on the need for sustainable development of aviation in four areas: the rights of passengers, the environment, innovation and digital technologies. The attending proposed to pass a regulation on common rules in the field of civil aviation and the establishment of EU Aviation Safety Agency.
Session III, Sustainable Transport and Innovation, focused on the 2011 White Paper on Transport and its key goals: no more conventionally-fuelled cars in cities, regulate the use of low-carbon sustainable fuels in aviation, shift of medium distance inter-city passenger and freight journeys from road to rail and waterways transport, cutting environmental pollution and minimising fatalities in road transport.
---
---
wednesday, 19 january
10.00 - public hearing on Artificial intelligence and man in the new digital era, organised by the Committee on Education, Science, Technological Development and the Information Society (National Assembly House, 13 Nikola Pasic Square, Small Hall)