National Assembly of the Republic of Serbia / Activities / Activity details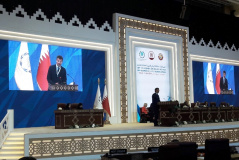 National Assembly delegation member Mladen Grujic at the 140th Assembly of the Inter-Parliamentary Union
Thursday, 11 April 2019
National Assembly Delegation at 140th IPU Assembly
The delegation of the National Assembly of the Republic of Serbia took part in the 140th Assembly of the Inter-Parliamentary Union in Doha, 6 – 10 April, where Serbia was presented as the host of the next assembly of this, the oldest international parliamentary organization.
---
Delegation member Mladen Grujic invited the parliamentarians to come to the 141st IPU Assembly in Belgrade, 13 – 17 October, stressing that the Serbian Assembly and the Republic of Serbia are very dedicated to the organization of this important event.
Grujic said that Belgrade will have the honour to host an IPU session after 56 years, which is also an exceptional occurrence because the IPU will be having an Assembly in a European country outside of Geneva after a long while, and added that he expected the event would gather a great many high-level parliamentary delegations from around the world.
Grujic thanked the IPU Governing Council for accepting Serbia's candidacy at last year's Assembly in Geneva, saying that Serbian Assembly Speaker Maja Gojkovic and IPU Secretary General Martin Chungong had signed an Agreement on the organization of the 141st IPU Assembly in Belgrade.
Grujic said that having the opportunity to organize this important gathering is a big honour for the National Assembly and the state adding that preparations for it are already underway.
Grujic said that this is the result of the Serbian delegation's active participation in the work of the Inter-Parliamentary Union in the last few years and good cooperation with IPU President Gabriela Cuevas Barron and Secretary General Martin Chungong.
The Belgrade Assembly will be held on the 130th anniversary of IPU, the oldest and biggest international parliamentary organization, comprising 178 full members, national parliaments of sovereign states, which Serbia has been a member of since its foundation in 1889.
Videos of Serbia's rich tourist offer and cultural content was also presented at the Assembly.
In the course of the IPU Assembly in Doha, the members of the National Assembly delegation also met with the Deputy Chairman of the upper house of the Indian Parliament Harivansh Narayan Singh.

The Deputy Chairman said he was very pleased by the over 70 years of excellent relations between Serbia and India, reminding the delegation of the history of cooperation and joint activities in the Non-Aligned Movement and the fact that the two countries share a common stance on a number of issues. He also reaffirmed India's support of Serbia's sovereignty and territorial integrity.
The officials opined that there is room to expand cooperation in the spheres of agriculture, the defence industry, science and technology, pharmaceutical industry and tourism. The countries are ready to strengthen parliamentary cooperation in all areas of common interest and on the multilateral scene, especially within the Inter-Parliamentary Union, and it was announced that an India delegation would attend the 141st IPU Assembly in Belgrade.


---
---
thursday, 24 september
No announcements for selected date