National Assembly of the Republic of Serbia / Activities / Activity details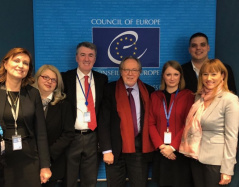 : 24 January 2019 The National Assembly's Delegation to PACE with Dick Marty
Thursday, 24 January 2019
National Assembly's Delegation to PACE at Promotion of Dick Marty's Book
Dick Marty's book "A Certain Idea of Justice" was presented to the media, parliamentarians, representatives of foreign missions in Strasbourg, judges of the European Court of Human Rights and the other guests of the January session.
---
Dick Marty is a former member of the Parliamentary Assembly of the Council of Europe, rapporteur, inter alia, on secret CIA prisons in Europe, human rights in the North Caucasus, UN Security Council and EU terrorist black lists, abuse of state secrecy and national security, and illicit trafficking in human organs in Kosovo-Metohija.

On behalf of the Serbian delegation, Prof. Dr Zarko Obradovic asked the author whether there is justice for the Serbs killed in Kosovo-Metohija and whether the perpetrators of the crimes committed against Serbs in Kosovo-Metohija would finally be punished.


---
---
| M | T | W | T | F | S | S |
| --- | --- | --- | --- | --- | --- | --- |
| 27 | 28 | 29 | 30 | 31 | 1 | 2 |
| 3 | 4 | 5 | 6 | 7 | 8 | 9 |
| 10 | 11 | 12 | 13 | 14 | 15 | 16 |
| 17 | 18 | 19 | 20 | 21 | 22 | 23 |
| 24 | 25 | 26 | 27 | 28 | 29 | 30 |
| 31 | 1 | 2 | 3 | 4 | 5 | 6 |
wednesday, 12 august
No announcements for selected date