National Assembly of the Republic of Serbia / Activities / Activity details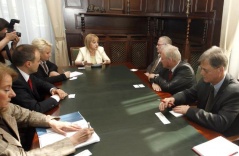 3 May 2012 National Assembly Speaker Prof. Dr Slavica Djukic Dejanovic and the members of the European United Left group in the European Parliament
Thursday, 3 May 2012
NARS Speaker Receives European United Left EP Members
The Speaker of the National Assembly of the Republic of Serbia, Prof. Dr Slavica Djukic Dejanovic, acting President of the Republic of Serbia, received Lothar Bisky, Miloslav Ransdorf and Thomas Rek of the European United Left group in the European Parliament.
---
The officials informed the NARS Speaker about the activities of the European United Left within the EP. At the same time they stressed that they were very critical of some of the EU institutions. They said that they were visiting Serbia in the capacity of observers of the upcoming elections and that they expect all the elections to be conducted in a peaceful and working atmosphere with full observance of the democratic procedure.
Djukic Dejanovic was pleased that the dialogue with the OSCE resulted in a mutually acceptable solution for the conduction of the elections in Kosovo-Metohija. The Speaker briefed the guests on the results of the current NARS legislature, highlighting the National Assembly's concentrated efforts on both adopting the laws on the European agenda and regulating different spheres of life and work of the Serbia citizens.
MP Dejan Radenkovic took part in the meeting.

---
---
monday, 11 december
No announcements for selected date