National Assembly of the Republic of Serbia / Activities / Activity details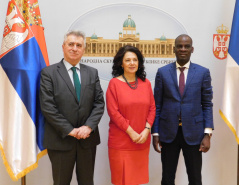 13 February 2019 The members of the National Assembly's standing delegation to the Inter-Parliamentary Union with the IPU Co-Rapporteur on Sustainable Development, Finance and Trade
Wednesday, 13 February 2019
Mijatovic and Raskovic Ivic Talk Sustainable Development Goals with IPU Co-Rapporteur on Sustainable Development, Finance and Trade
Dr Milorad Mijatovic and Dr Sanda Raskovic Ivic, members of the National Assembly's standing delegation to the Inter-Parliamentary Union (IPU), met today at the National Assembly House with IPU Co-Rapporteur on Sustainable Development, Finance and Trade and member of the Ghanaian Parliament Haruna Iddrisu.
---
Dr Sanda Raskovic Ivic, who is to be the Rapporteur on the Resolution on the role of fair and free trade and investment in achieving the Sustainable Development Goals at the 140th IPU Session, gave a rough presentation of said Resolution which is to be on the agenda of the IPU April Session in Cypress. The officials agreed that it is essential that everyone endorses and contributes to the achievement of the Sustainable Development Goals, and Dr Milorad Mijatovic added that the Republic of Serbia is aware of their importance and plans to draft a short- and long-term action plans to realize the 169 targets of the 17 goals as soon as possible. He underlined the Parliament's important role in the process: "The Parliament has a control role over the Government and we try to use it to make sure the targets are achieved and to secure the funds needed for it, which we do by submitting amendments to the budget and channelling appropriate funds to ensure the efficiency of the process", said Mijatovic. Dr Sanda Raskovic Ivic added that the Parliament could contribute to the cause even more if the National Assembly's Focus Group for the Development of Control Mechanisms for the Process of Implementation of the Sustainable Development Goals were to become a committee, which is its members' plan.
The officials also spoke about employment, the economy, specialization of Ghanaian doctors in Serbia, and Iddrisu thanked the hosts for the meeting which had provided best practice examples and given him a lot of ideas for example to set up a focus group at the Ghanaian Parliament and educate local administrations, especially thought schools and universities, on the importance of achieving the Sustainable Development Goals. He also gave his wholehearted support to Belgrade's organizing the 141st IPU Assembly in October of this year.


---
---
| M | T | W | T | F | S | S |
| --- | --- | --- | --- | --- | --- | --- |
| 26 | 27 | 28 | 29 | 30 | 31 | 1 |
| 2 | 3 | 4 | 5 | 6 | 7 | 8 |
| 9 | 10 | 11 | 12 | 13 | 14 | 15 |
| 16 | 17 | 18 | 19 | 20 | 21 | 22 |
| 23 | 24 | 25 | 26 | 27 | 28 | 29 |
| 30 | 31 | 1 | 2 | 3 | 4 | 5 |
wednesday, 4 august
No announcements for selected date