National Assembly of the Republic of Serbia / Activities / Activity details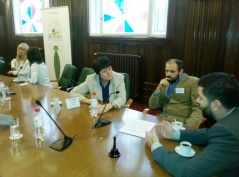 21 April 2015 The participants of the Green Parliamentary Group meeting
Tuesday, 20 October 2015
Meeting of Green Parliamentary Group
The informal Green Parliamentary Group had a meeting, at the National Assembly, with the representatives of the civil sector active in the protection and improvement of the environment, as part of the event "Week of Parliamentarism".
---
In accordance with the concept of the event – direct contact between the MPs and citizens, the meeting was in fact modelled as short five-minute meetings. An old-fashioned bell sounded the beginning and end of rounds of short individual meetings between the MPs and the representatives of civil society.

The members of the Green Parliamentary Group Krstimir Pantic, Mirjana Djokovic, Ljiljana Kosoric, Velinka Tosic, Jezdimir Vucetic, Katarina Rakic, Jovan Markovic, Nevena Stojanovic, Nada Lazic, Ivan Karic and Prof. Dr Janko Veselinovic, played host to the representatives of Serbian Vlachs, Civic Reading-Room Europe, Association for the development of the Municipality of Bor, Civic Association Krusevac Environmental Centre, Foundation RES, Eco Centre, Novi Sad Cycling Initiative, Streets for Cyclists and SAN EKO.


---
---
| M | T | W | T | F | S | S |
| --- | --- | --- | --- | --- | --- | --- |
| 29 | 30 | 1 | 2 | 3 | 4 | 5 |
| 6 | 7 | 8 | 9 | 10 | 11 | 12 |
| 13 | 14 | 15 | 16 | 17 | 18 | 19 |
| 20 | 21 | 22 | 23 | 24 | 25 | 26 |
| 27 | 28 | 29 | 30 | 31 | 1 | 2 |
thursday, 2 july
No announcements for selected date