National Assembly of the Republic of Serbia / Activities / Activity details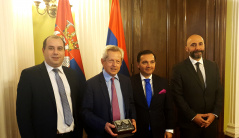 29 May 2019 National Assembly Deputy Speaker Prof. Dr Vladimir Marinkovic meets with Richard Graham, MP in the UK House of Commons and Westminster Foundation for Democracy Chair of the Board
Wednesday, 29 May 2019
Marinkovic Meets with UK MP and WFD Chair of Board Richard Graham
National Assembly Deputy Speaker Prof. Dr Vladimir Marinkovic met today with Richard Graham, MP in the UK House of Commons and Westminster Foundation for Democracy Chair of the Board.
---
The two officials discussed the National Assembly's mode of operation, cooperation with the Westminster Foundation for Democracy, election of MPs and the operation of the National Assembly Support Service.
The Deputy Speaker welcomed the UK guest, highlighting the last five years' dynamic parliamentary cooperation. Marinkovic said that Euro-integration and EU accession are Serbia's strategic commitment, and the country has so far opened 16 chapters, two of which have been temporarily closed. He said that Serbia would very much like to improve the two countries' economic cooperation and trade, adding that the country have a very favourable business climate for foreign investors. In 2018 Serbia was second in Europe by the volume of foreign investment with an impressive 3.5 billion EU, the Deputy Speaker said.
The meeting was also attended by National Assembly Deputy Secretary-General Branko Marinkovic who spoke of the results of the National Assembly's cooperation with the Westminster Foundation for Democracy in terms of improved financial control, policy development and legislative drafting. The Memorandum of Cooperation signed in 2012 set the groundwork to deepen cooperation and in turn the 2015 agreement the Committee on Finance, State Budget and Control of Public Spending signed with the Foundation to boost the efficiency of its role in parliamentary scrutiny as the key feature of sustainable democracy. The project resulted in the Parliamentary Budget Office that offers expert and technical assistance to the National Assembly committees and Support Service and encourages the parliament's financial scrutiny over the Government.
Graham praised the cooperation between the National Assembly and the Westminster Foundation for Democracy, asking about the election of MPs, the National Assembly's transparency, its public trust and position in the media.
The National Assembly Deputy Speaker and the Deputy Secretary-General explained that Serbia is a country in the process of building-up its democracy with the aim of reaching the levels of developed European countries, that it is very open and transparent both toward the citizens and the media. They added that Serbia is working toward passing a good legislative framework and raising standards across the board, as well as trying to change its public image which had for a long time been under the influence of closed policies in the last decades of the 20th century.


---
---
| M | T | W | T | F | S | S |
| --- | --- | --- | --- | --- | --- | --- |
| 27 | 28 | 29 | 30 | 31 | 1 | 2 |
| 3 | 4 | 5 | 6 | 7 | 8 | 9 |
| 10 | 11 | 12 | 13 | 14 | 15 | 16 |
| 17 | 18 | 19 | 20 | 21 | 22 | 23 |
| 24 | 25 | 26 | 27 | 28 | 29 | 30 |
| 31 | 1 | 2 | 3 | 4 | 5 | 6 |
saturday, 8 august
No announcements for selected date