National Assembly of the Republic of Serbia / Activities / Activity details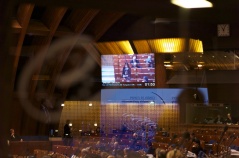 30 January 2014 January session of the Parliamentary Assembly of the Council of Europe (photo PACE)
Thursday, 30 January 2014
MP Vladimir Ilic Takes Part in PACE January Session
In the discussion on the position of national minorities in Europe, Vladimir Ilic, member of the National Assembly's standing delegation and the Committee on Equality and Non-Discrimination of the Parliamentary Assembly of the Council of Europe, drew attention to the breach of human rights of Serbs in Croatia.
---
Vladimir Ilic pointed out the frequent ethnically motivated attacks on the Serbian minority in Croatia and the destruction of bilingual signs in towns and municipalities where Serbs make up more than a third of the population.
"Despite the fact that the Croatian authorities failed to react adequately to the atmosphere of fear and intolerance, Serbia remains committed to developing good-neighbourly relations and expects Croatia to employ appropriate measures to improve the situation" - concluded Ilic.
In the course of the day, Vladimir Ilic also took part in the plenary debate on energy diversification and sustainable development, highlighting the significance of the Southern Stream and other energy projects important for Serbia and the Balkan countries' economic difficulties.

---
---
friday, 21 february
9.00 - sitting of the Culture and Information Committee (National Assembly House, 13 Nikola Pasic Square, hall 4)

9.30 - sitting of the Committee on Spatial Planning, Transport, Infrastructure and Telecommunications (National Assembly House, 13 Nikola Pasic Square, hall 2)

9.45 - sitting of the Committee on Constitutional and Legislative Issues (National Assembly House, 13 Nikola Pasic Square, hall 2)

10.00 - continuation of the 25th Extraordinary Session of the National Assembly of the Republic of Serbia, 11th Legislature (National Assembly House, 13 Nikola Pasic Square)

11.30 - press conference of MP Olena Papuga (National Assembly House, 13 Nikola Pasic Square, Central Hall)

12.00 - sitting of the Committee on the Diaspora and Serbs in the Region (National Assembly House, 13 Nikola Pasic Square, hall 3)

13.30 - press conference of MP Bosko Obradovic (National Assembly House, 13 Nikola Pasic Square, Central Hall)

14.00 - press conference of MP Djordje Vukadinovic (National Assembly House, 13 Nikola Pasic Square, Central Hall)

16.50 - National Assembly Deputy Speaker Veroljub Arsic meets with the Chairman of the Accounts Chamber of the Russian Federation Alexei Kudrin (National Assembly House, 13 Nikola Pasic Square, hall 1)