National Assembly of the Republic of Serbia / Activities / Activity details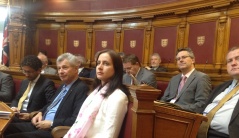 16 October 2015 MP Sabina Dazdarevic at the 27th regular session of the Francophonie Parliamentary Assembly in Jersey
Friday, 16 October 2015
MP Sabina Dazdarevic Takes Part in Francophonie Parliamentary Assembly 28th Regular Session in Jersey
Sabina Dazdarevic, member of the National Assembly's standing delegation to the Parliamentary Assembly of Francophonie (APF), took part in the 28th regular session of the Parliamentary Assembly of Francophonie for the European region, in Jersey, UK, from 12 to 16 October 2015.
---
The session gathered the parliamentary delegations of member states: France, Switzerland, Belgium/Valon-Brussels, Swiss Canton of Jura and Valle d'Aosta, Jersey and Armenia, delegations of associate members: Andorra, Hungary, Swiss Cantons of Vaud and Valais, and parliamentary delegations of observer states: Serbia, Bulgaria, and Catalonia, as well as APF representatives for the region of the Americas.

The topics discussed at the session were the promotion of Francophonie in Anglophile surroundings, economic strategy for Francophone Europe, freedom of expression – freedom of the media and protection of minority rights.


---
---
monday, 9 december
10.00 - Eighth Sitting of the Second Regular Session of the National Assembly of the Republic of Serbia in 2019 (National Assembly House, 13 Nikola Pasic Square)

11.00 - press conference of MP Sonja Pavlovic (National Assembly House, 13 Nikola Pasic Square, Central Hall)

11.30 - press conference of MP Bosko Obradovic (National Assembly House, 13 Nikola Pasic Square, Central Hall)

12.00 - press conference of MP Dr Sanda Raskovic Ivic (National Assembly House, 13 Nikola Pasic Square, Central Hall)

12.30 - press conference of MP Zoran Zivkovic (National Assembly House, 13 Nikola Pasic Square, Central Hall)

13.00 - press conference of MP Cedomir Jovanovic (National Assembly House, 13 Nikola Pasic Square, Central Hall)

13.30 - press conference of MP Djordje Komlenski (National Assembly House, 13 Nikola Pasic Square, Central Hall)

13.45 - press conference of National Assembly Deputy Speaker Prof. Dr Vladimir Marinkovic (National Assembly House, 13 Nikola Pasic Square, Central Hall)

14.00 - press conference of National Assembly Deputy Speaker Djordje Milicevic (National Assembly House, 13 Nikola Pasic Square, Central Hall)