National Assembly of the Republic of Serbia / Activities / Activity details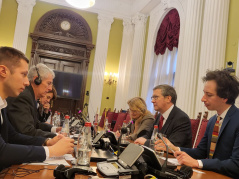 7 February 2023 The participants of the meeting
Tuesday, 7 February 2023
MP Mirko Ostrogonac Meets with Representatives of UK Embassies in Serbia and Croatia
MP Mirko Ostrogonac had a meeting today at the National Assembly House with representatives of the UK Embassy in Zagreb and representatives of the UK Embassy in Serbia, with the central topic being the position of Croats a national minority in the Republic of Serbia.
---
Ostrogonac briefed William Hopkins, First Secretary of the UK Embassy in Serbia, and Andreas Capstack, Second Secretary of the UK Embassy in Croatia, on the position of Croats in Serbia, especially in the northern part of Vojvodina, explaining the steps undertaken from the beginning of the 13th legislature of the National Assembly and the entry of Tomislav Zigmanov as representative of the Croat national minority into the Government of the Republic of Serbia. He explained that this move relaxed the Croat national minority and urged Croats to a more active engagement in the fight for a normative framework. He added that, in view of the Serb and Croats' shared history, the Croat national minority in Serbia has officially begun to exist 20 years prior and the very frequently tense relations between the neighbouring countries have mostly proven damaging to the national minorities. The Croat minority community had signed a Declaration on Cooperation with the Serb minority community in Croatia which lent a positive impulse to a closer cooperation between the two countries and boosted media attention, especially in terms of news shows in the Croat language, said the MP, also mentioning young people's interest in employment in the public sector in Serbia. The officials discussed capital projects and investment into structures for the Croat community, such as the adaptation of the Institute for Culture of Croats of Vojvodina in Subotica and the purchase of the Ban Jelacic birth house in Petrovaradin.
The guests were interested in the number of Croats living in Serbia, which the MP said was 57,000 according to the 2012 popular census, and which he believes to be in a decline. They also discussed the need to boost the presence of Croat representatives at the local level, especially in northern Serbian towns.
---
---
monday, 11 december
No announcements for selected date