National Assembly of the Republic of Serbia / Activities / Activity details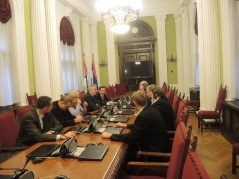 19 February 2014 Member of Parliament Dr Milorad Mijatovic meets with the representatives of the Swedish Trade Union Confederation
Wednesday, 19 February 2014
MP Milorad Mijatovic Meets with Swedish Trade Union Confederation Representatives
At the meeting, with the topic Social dialogue – the relationship between trade unions and the parliament, MP Milorad Mijatovic pointed out the importance of cooperation and exchange of experience between the Kingdom of Sweden and the Republic of Serbia relating to union activities and social dialogue.
---
He said that the existing cooperation among the Swedish trade unions, employers' associations and the representatives of the independent unions of Serbia is very important, highlighting its significance from the viewpoint of the Social Democratic Party. The importance of communication and cooperation is especially significant in view of the fact that Serbia has begun the pre-accession talks with the European Union and expects to have the first concrete talks on chapters 23, 24 and 32 as soon as April. Sweden's experience can also prove important for the adoption of the labour law since the goal is to pass a high-quality reform law which would not diminish the employees' rights.

Krister Andersson, Head of the trade unions' West Sweden office, said that the joint project and cooperation are greatly beneficial both for Serbia and Sweden. However, he stresses that despite the fervent wish to assist Serbia by advice and example, the country needs to choose its own path, follow its own needs and situation which are always specific and as such require specific solutions. Still, he believes that Serbia will successfully overcome all the obstacles posed by the harmonisation with European standards, because, he says, Serbia has strong trade unions compared to many other countries.

MP Slavica Savic asked how important collective contracts in Sweden were, whether they were at the national level and whether companies offered them, and received a positive answer to all of her questions. The meeting was attended by Prof. Dr Vladimir Marinkovic, President of the Alliance of Independent Trade Unions of Vojvodina Goran Milic and the President of the Independent Trade Unions of Vojvodina Miodrag Bradonjic.

---
---
friday, 18 september
No announcements for selected date