National Assembly of the Republic of Serbia / Activities / Activity details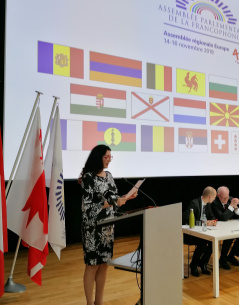 16 November 2019 MA Jadranka Jovanovic at the 32nd session of the Parliamentary Assembly of La Francophonie
Saturday, 16 November 2019
MP Jadranka Jovanovic Tales Part in 32nd APF Session
MA Jadranka Jovanovic, Head of the standing delegation of the National Assembly of the Republic of Serbia to the Parliamentary Assembly of La Francophonie (APF), took part in the 32nd APF session for the region of Europe in the Swiss canton of Jura, 14 - 16 November 2019.
---
The session was attended by 20 parliamentary delegations representing Armenia, Wallonia-Brussels region, North Macedonia, France, Greece, Hungary, British Crown dependency of Jersey, Swiss cantons of Vaud, Valais and Jura, Luxembourg, Moldova, Principality of Monaco, New Caledonia, Romania, autonomous community of Catalonia, Swiss Confederation and the Aosta Valley region.
The overreaching topics of the 32nd session were: A people's right to self-determination as legal principle and Direct democracy, civic initiatives in the legislative process.
The participating parliamentary representatives took part in the debate following the host's address.
MA Jadranka Jovanovic said that a people's right to self-determination is one of the key principles of international law based on the UN Charter. One of the key issues in Europe today is the relationship between the people's right to self-determination and maintenance of the territorial integrity of a state which are parts of the same, unified international legal order that cannot be in (normative) conflict.
MA Jadranka Jovanovic stressed how important it is to respect territorial integrity and sovereignty, saying that when it comes to the secession of a part of a UN member state, the UN never recognized the principle of secession of a part of a member state. It is important to understand that the right to self-determination is exercised within the territory of existing states.
However, speaking of Europe, MA Jadranka Jovanovic said, the Republic of Serbia is an example of disrespect of international law and UNSC Resolution 1244 which guarantees the sovereignty and territorial integrity on the whole territory of the Republic of Serbia. The unilaterally declared independence of so-called Kosovo is unacceptable, which is something, Jovanovic said, no country would allow "in its own back yard". Serbia respects the territorial integrity of all the states in the world and expects them to do the same.
Finally, MA Jadranka Jovanovic said that only by fully respecting the fundamental international legal and political instruments can Europe avoid re-entering an era of confrontation and division.


---
---
| M | T | W | T | F | S | S |
| --- | --- | --- | --- | --- | --- | --- |
| 27 | 28 | 29 | 30 | 31 | 1 | 2 |
| 3 | 4 | 5 | 6 | 7 | 8 | 9 |
| 10 | 11 | 12 | 13 | 14 | 15 | 16 |
| 17 | 18 | 19 | 20 | 21 | 22 | 23 |
| 24 | 25 | 26 | 27 | 28 | 29 | 30 |
| 31 | 1 | 2 | 3 | 4 | 5 | 6 |
thursday, 13 august
No announcements for selected date